A Jewish student comes to terms with his sexuality in 1980s New York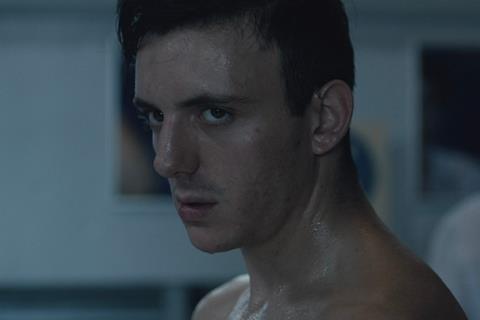 Dir: Eric Steel. USA. 2020. 118mins
A coming of age narrative interweaves a young man grappling with his own sexual, religious and cultural identities.
The title, Minyan, refers to the quorum of 10 men required for Jewish public prayer.
This first feature from Eric Steel follows a Yeshiva student, David (Samuel H. Levine), who is beginning to realise he is attracted to men.
Through his growing friendship with the elderly closeted gay neighbors of his grandfather; the scorching connection with a cruelly handsome East Village barman (Alex Hurt) and the writing of James Baldwin, David gradually comes to terms with his identity as a practicing Jew, a Russian immigrant and a gay man. Although the film doesn't shy away from the physicality of David's self-discovery, the film is as much about his spiritual awakening as it is his sexual one.
Steel's background is in documentary, having directed The Bridge, about suicides from the Golden Gate Bridge, and Kiss The Water, about a Scottish woman who made an art out of tying fishing flies.
Set in the second half of the 1980s, just as AIDS starts to loom over the gay community, the film evokes both period and location.
The story is based on a short story by David Bezmozgis and on Steel's own experience of coming out during the 1980s.
There is feeling for both the then predominantly Russian Jewish enclave of Brighton Beach and the burgeoning gay scene in the East Village.
David is closer to his clever mother than he is to his bullish ex-boxer father. But he really connects to his recently widowed grandfather.
In trying to ensure that his grandfather is high on the waiting list for a Jewish retirement home, David begins to frequent the same synagogue as gay pensioners Itzik (Mark Margolis) and Herschel (Christopher McCann).
; David's commitment to make up the numbers is as much about expediency as it is about anything else. But through it, his worldview is opened.
Whether carrying the Torah, studying at Yeshiva or in high school, or trapped in his family's grasp, David's eyes are constantly scouring for something outside of the frame. Soon enough, his searching gaze locks onto that of another man, and he starts to decode the messages concealed in the loaded glances. Although perhaps a little too mature (he was 23 when the film was made) and assured to be entirely convincing as a gauche teenager, Levine is a striking screen presence.
Gentle rhythms and motifs are woven into the narrative: the covert draining and refilling of the 'best' vodka; the inspiring literature class; the score, klezmer infused jazz which anchors David's story to the traditions of his family.
The film might not be doing anything revolutionary with the gay coming of age story, but it is heartfelt and honest. And at times, unexpectedly hot.
Production company: AgX, Easy There Tiger
Producers: Luca Borghese, Ben Howe, Eric Steel, Luigi Caiola
Screenplay: Daniel Pearle, Eric Steel, based on the short story by David Bezmozgis
Editing: Ray Hubley
Cinematography: Ole Bratt Birkeland
Production Design: Lucio Seixas
Music: David Krakauer, Kathleen Tagg
Cast: Samuel H. Levine, Ron Rifkin, Christopher McCann, Mark Margolis, Richard Topol, Brooke Bloom, Alex Hurt