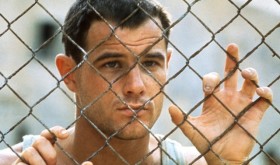 Parker, who directed 14 features and wrote six of them, loved music-driven films: Bugsy Malone (1976), Fame (1980), Pink Floyd: The Wall (1982), The Commitments (1991) and Evita (1996), with Madonna as Eva Perón. "If you can use music and images together, it's very powerful," he noted in 1995.
Pick of the Week
Two James Bond pictures in August: one, Quantum of Solace, mediocre; the other, Casino Royale, great
Levy Unfiltered
NY Film Fest Opens With Steve McQueen's Lovers Rock.
Reviews
Brian De Palma directed Carlito's Way, an ultra-violent crime drama, based on the novels Carlito's Way (1975) and After Hours (1979) by Judge Edwin Torres. The superb secondary cast includes Sean Penn, Penelope Ann Miller, Luis Guzman, John Leguizamo, Jorge Porcel, Joseph Siravo and Viggo Mortensen. The film stars Al Pacino as Carlito Brigante, a […]
Alexander Hall directed Down to Earth, a musical comedy starring Rita Hayworth and Larry Parks, a sequel to his Oscar nominated Here Comes Mr. Jordan of 1941.
Prolific Warner contract director Lloyd Bacon made Affectionately Yours, a romantic comedy starring Merle Oberon, Dennis Morgan, and Rita Hayworth.
Lee Tamahori directed Along Came a Spider, a psychological thriller that's the second installment in the Alex Cross film series, and a sequel to the 1997 Kiss the Girls, with Morgan Freeman reprising his role as detective Alex Cross.