Gay Directors, Gay Films?
Pedro Almodóvar, Terence Davies, Todd Haynes, Gus Van Sant, John Waters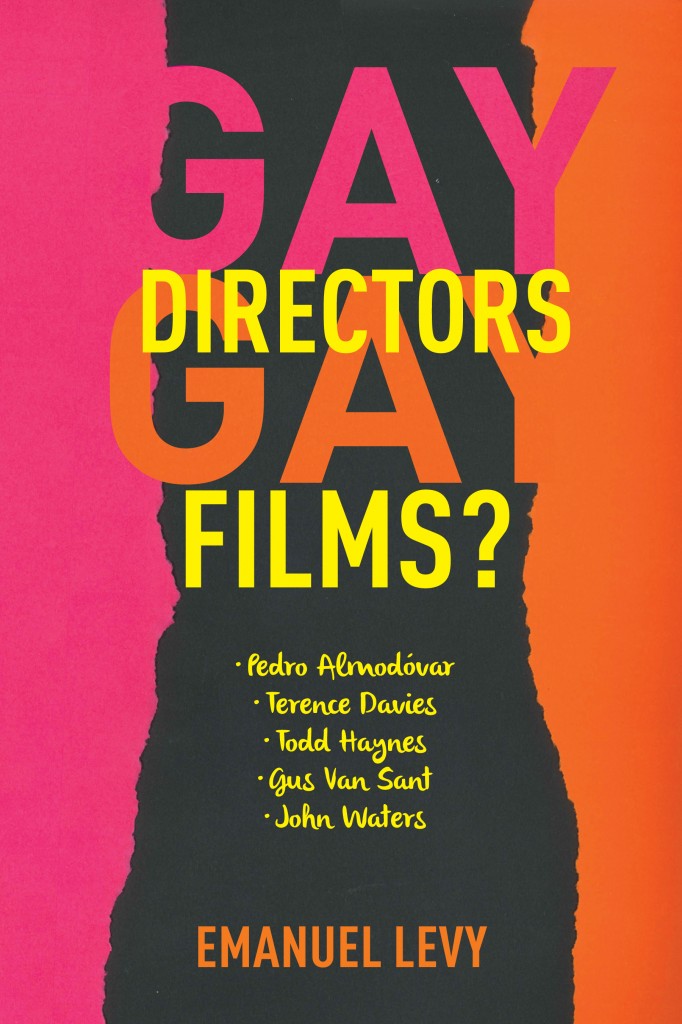 My new book, Gay Directors, Gay Films? just got published.  Its publication date coincides (by hand of fate) with the celebration of the 12th anniversary of our website, www.EmanuelLevy.com.
Of my nine film books, it is the most ambitious and personal, a loving tribute to my late companion, Rob Remley.
We are introducing the book at a panel in the Venice Film Fest, on September 8, 2pm-3pm, and then officially launch it on Saturday, September 19, in Provincetown, at the Harbor Lounge (my favorite bar in town) 1:30pm-3:00 pm.
Provincetown has always assumed a special place for me. It was our favorite vacation site, where we spent at least 20 wonderful weeks over the past three decades, not to mention the fact that John Waters (one of the five directors profiled in the book) lives in Provincetown and used to work in the late 1960s at the Provincetown Bookstore, the store that sponsors our book event on Sep 19.
Early Reviews
This is an impressively informative treatment of five prominent gay directors who represent a wide range of differences within the gay spectrum. Levy's background in gay cinema, independent cinema, and traditional Hollywood cinema make him the ideal author for this significant and original study."
—Molly Haskell, film critic and author of Frankly, My Dear: Gone with the Wind Revisited
"In a nuanced examination of five pioneering gay directors, Emanuel Levy moves with fluid grace and astonishing erudition through a broad range of national traditions and personal styles, nailing what is peculiar and intriguing about each auteur. His study will enchant anyone interested in the twists and turns of gender, sex, and cinema over the last 50 years."
—Thomas Doherty, author of Hollywood and Hitler, 1933-1939
About the Book:
For most of the twentieth century, gay characters and gay themes were both underrepresented and misrepresented in mainstream cinema. Since the 1970s, however, a new generation of openly gay directors has turned the closet inside out, bringing a new and poignant immediacy to modern cinema and popular culture.
Combining his experienced critique with in-depth interviews conducted with each director, Emanuel Levy draws a clear timeline of gay filmmaking over the past four decades and its particular influences and innovations. While recognizing the "queering" of American culture that resulted from these films, Levy also takes stock of the ensuing conservative backlash and its impact on cinematic art, a trend that continues alongside the growing acceptance of homosexuality.
The book compares the similarities and differences between the "North American"  attitudes of Todd Haynes, Gus Van Sant, and John Waters and the "European" perspectives of Pedro Almodóvar and Terence Davies, developing a truly comprehensive, up-to-date approach to gay filmmaking in particular and auteur cinema in general.
CO LUM B I A
August 2015 392 pages · 33 b&w photographs
$25.00/£17.50 paper · 978-0-231-15277-8
$35.00/£24.00 cloth · 978-0-231-15276-1
Emanuel Levy is a professor of film and sociology, who has taught at Columbia University, Wellesley College, ASU, UCLA, and New York University. He is the author of nine books, including Vincente Minnelli: Hollywood's Dark Dreamer; All About Oscar: The History and Politics of the Academy Awards; Cinema of Outsiders: The Rise of American Independent Film; George Cukor: Master of Elegance; John Wayne: Prophet of the American Way of Life; and Citizen Sarris: American Film Critic.
A two-time president of the L.A. Film Critics Association, Levy is the only critic in the U.S. who votes for seven groups, ranging from the Hollywood Foreign Press Association to the National Society of Film Critics.
Photo: Keanu Reeves and River Phoenix in Van Sant's masterpice, My Own Private Idaho
Levy had served  as senior critic for Variety and chief film critic for Screen International  before founding in 2003 the highly acclaimed website:wwww.emanuellevy.com: Cinema 24/7.  He has served on the grand juries of fifty-four international film festivals, including Cannes, Venice, Montreal, Locarno, Taormina, San Francisco, Palm Springs, Seattle, Hawaii and Sundance.
ORDER ONLINE NOW AND SAVE 30%
Enter Code: LEV