Tejinder Singh Khamkha​/Netflix/AP
Balram Halwai (Adarsh Gourav), a boy from a poor large family goes from being a tea-stall waiter in his village to driver for a wealthy landlord's family, and then, through ambition and corruption, he reaches to the higher status of being a successful entrepreneur.
The tale, which begins in 2010, is narrated by Balram in a variegated tone, speaking directly to the audience.  In the process, he poses a ferocious question: "Do we loathe our masters behind a façade of love, or do we love them behind a façade of loathing?"
We learn that before he had to drop out of school to earn money, his teacher dubbed him a "white tiger" due to his smarts.
Balram sees himself as an avatar of the new social order, in which powerful white men may be on their way out, or at least in decline.
Balram is aware that he was born into a caste that will not allow him to rise. And he is savvy enough to realize that the only way put is through the avenues of crime or politics, or combination of the two.
He schemes his way into the landlord's good graces by cruelly framing and displacing the head chauffeur. He follows this with ingratiating himself with the landlord's Westernized son Ashok (Rajkummar Rao), who recently returned from the U.S., and with Ashok's Indian-American wife Pinky (Priyanka Chopra Jonas).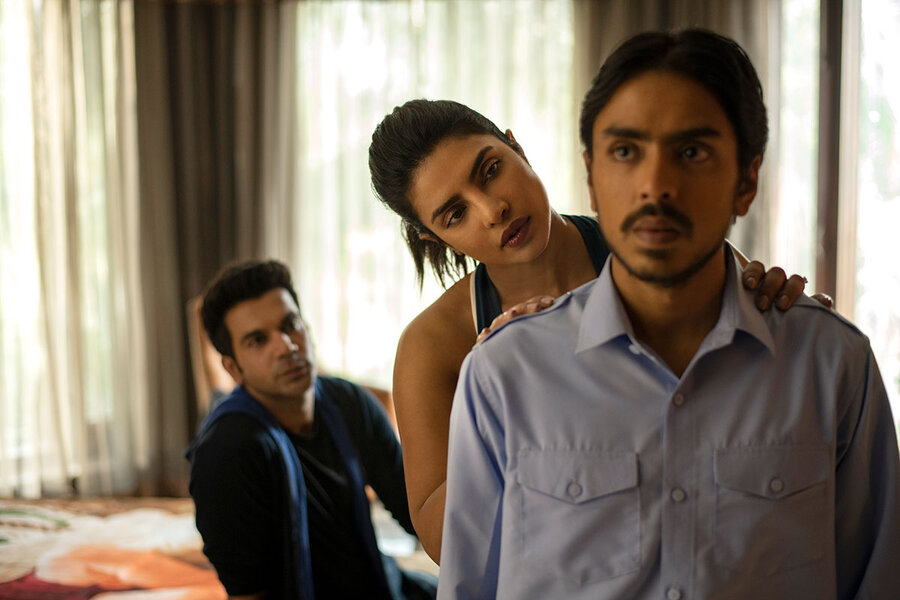 Tejinder Singh Khamkha​/Netflix/AP
The couple want him to call them by their first names and regard them as "family" – and he chauffeurs them to Delhi on business trips.
But it's clear that the servant-master dynamic still holds.  While Ashok and Pinky live in high-rise luxury in Delhi, Balram lives below in a roach-infested parking garage with the drivers of other bosses. When a lethal accident implicates Ashok, the family pressures Balram to take the blame.
Although doing financially better than everyone else in his family, he remains a servant tied to tradition, being often mistreated and humiliated by his employer.
There might be a slow forward movement towards progress and some upward social mobility mobility, but they inevitably come with a huge human price. Balram is able to break the shackles of servitude–to get out of the "rooster coop" as he puts it.  But some bigger issues linger on: Is he quite free from the system? Has he really emancipated himself, as an individual with a new and valid identity?
Balram's ambition to become a master of his fate at all costs and by any means offers one of the chilling probes into the long-held caste system, looking at it from various perspectives and social classes.