P.S. BURN THIS LETTER PLEASE – Documentary (discovery+)
Directed by: Michael Seligman, Jennifer Tiexiera
Produced by: Craig Olsen
Executive Produced by: Richard Konigsberg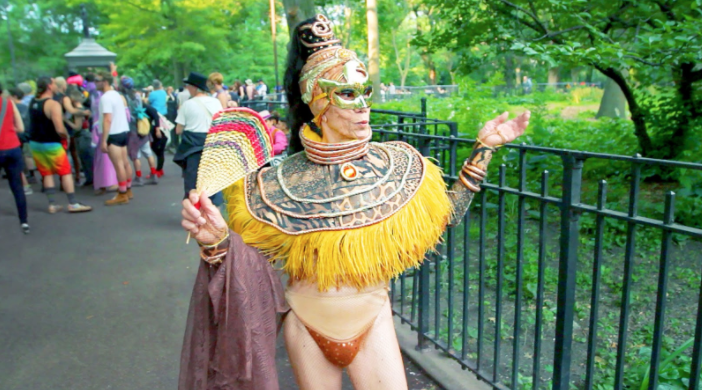 A box of letters, held in secret for nearly 60 years, ignites a five-year exploration into a part of LGBT history that has never been told. The letters open a window into a forgotten world where being yourself meant breaking the law and where the penalties for "masquerading" as a woman were swift and severe. Using original interviews, never-before-seen archival footage and photographs and stylized recreations, P.S. BURN THIS LETTER PLEASE reconstructs this pre-Stonewall era as Lennie, Robbie, George, Michael, Jim, Henry, Claude, Tish and Terry—former drag queens now in their 80s and 90s—reveal how they survived and somehow flourished at a time when drag queens were both revered and reviled, even within the gay community. The government sought to destroy them, then history tried to erase them, now they get to tell their story for the first time.
RT: 106 minutes
THE CONDUCTOR – World Premiere | Documentary
(Sales: Cargo Films & Releasing)
Directed by Bernadette Wegenstein
Written by Bernadette Wegenstein and Stefan Fauland
Produced by Annette Porter
Featuring Marin Alsop
Told she couldn't become a music conductor because she was a girl, Marin Alsop persisted, until, against all odds, she broke through and became one of the world's most renowned classical music conductors.  The Conductor takes us on her journey, born and raised in New York City, her tenacity and hard work took her from childhood days attending concerts at Lincoln Center to conducting symphonies in Baltimore, Såo Paolo and Vienna.
RT: 90 Minutes
THE NOVICE – WORLD PREMIERE – US Narrative Competition (Sales: CAA, XYZ)
Written and directed by: Lauren Hadaway (directorial debut)
Starring: Isabelle Fuhrman (Orphan, Orphan: First Kill), Dilone (Halston), Amy Forsyth (CODA, The Gilded Age)
An obsessive novice rower climbs the ranks of her cutthroat university's team, pushing herself to physical and mental extremes in her quest to become the best.
RT: 94 Minutes
THE SCARS OF ALI BOULALA  – World Premiere | Documentary Category (Sales: Charades)
Directed by: Max Eriksson
Produced by: Mario Adamson, Ashley Smith
Co-Produced by: Anita Norfolk
Executive Produced by: Ewan Bowman, Ruth Reid, Rebecca Bennett 
Featuring: Ali Boulala, Rune Glifberg, Arto Saari, Ewan Bowman, Dustin Dollin, Kevin "Spanky" Long
Sixteen-year-old Ali Boulala is thrust into the heart of the global skateboarding scene when he is recruited onto a professional crew in the mid-1990s. He spends a decade touring the world with his teammates and living a life without limits. His creativity on the board and his reputation for partying gains Ali the status as the most fearless and eccentric skateboarder of his generation.
Everything changes in 2007 when Ali is involved in a tragic accident. He loses his ability to skate and must fight to build up his life again. Ali now lives a quiet life in the suburbs of Stockholm. He carries scars on his body and in his psyche – constant reminders of the accident that still haunts him. One day, an opportunity opens up for Ali to face his emotional demons head-on. He must decide if he is ready to confront his past, or if some wounds can't be healed.
RT: 100 minutes
WEREWOLVES WITHIN – World Premiere | US Narrative
Competition (IFC Films)
Directed by: Josh Ruben
Written by: Mishna Wolff 
Starring: Milana Vayntrub, Sam Richardson, Cheyenne Jackson, Michaela Watkins, Harvey Guillen  
Directed by Josh Ruben (Scare Me), written by comedian, screenwriter and best-selling author Mishna Wolff ("I'm Down") and based on the virtual reality game of the same name, horror comedy Werewolves Within is a who-dunnit with an all-star comedic cast.
After a proposed gas pipeline creates divisions within the small town of Beaverfield, and a snowstorm traps its residents together inside the local inn, newly arrived forest ranger FINN (Sam Richardson) and postal worker CECILY (Milana Vayntrub) must try to keep the peace and uncover the truth behind a mysterious creature that has begun terrorizing the community.
RT: 100 Minutes