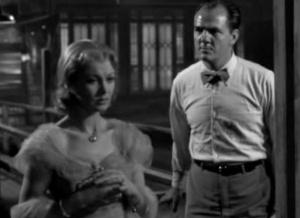 I recently had the opportunity to revisit, within one day apart, Elia Kazan's 1951 masterpiece, A Streetcar Named Desire, based on Tennessee Williams' best-known play, and Billy Wilder's 1950 Sunset Boulevard, courtesy of Turner Classics Movies (TCM).
While the movies are vastly different, there are some striking similarities between their narratives and especially screen heroines, Blanche DuBois, played by Vivien Leigh in an Oscar-winning turn, in Streetcar Named Desire, and Norma Desmond, played by Gloria Swanson in her most famous (and Oscar-nominated) role in Sunset Boulevard.
Kazan's screen version came out in 1951, a year before Wilder's Sunset Boulevard, but Williams play ran on Broadway (and won a Pulitzer Prize) in 1948, two years before Sunset was released theatrically.
Age and Beauty
The elder of two sisters, Blanche DuBois is supposed to be in early 30s, and Norma around 50, though both women pretend to be much younger than their respective biological ages.  (In All About Eve, Bette Davis' Margo Channing is going through a major professional and personal crisis when she turns 40).
Though Blanche's profession is school teaching and not acting or stardom, as is the case with Norma, she is highly aware of being damaged goods, due to her age and lack of marital status.
Fragile Lilies or Monsters
Both women behave like fragile lilies, though deep down they are stronger than it would seem–or they would allow to. Having been married very briefly to a young guy who was a latent homosexual and shot himself on their wedding night (the shot is heard twice, but we never see his face), fading Southern belles Blanche bow realizes that her last and only chance to get married and assume respectability is with Mitch (played by Karl Malden), an initially naïve, working class lad still living with his domineering mother.
Sexual Aggressors or Predators
Both women either profess or are made to confess that they favor younger men for sex and company.
But the most striking resemblance is in the last act of these films, as both self-delusional women slowly descent into madness and need to be taken away from their place.  Having been brutally raped by her brother-in-law, Stanley Kowalski, while her sister Stella is in the hospital giving birth, Blanche is taken in the last scene to a mental asylum.
Similarly, the turning point in the already-troubled relationship of Norma and her gigolo-wannabe screenwriter Joe (William Holden), is when he threatens to leave her and begins acking his stuff.  Deeply upset, Norma shoots him three times, twice in the back and once in the stomach, before he falls into the swimming pool (from which place his corpse narrates the tale in one long flashback).
When the police and press arrive, the only way to get Norma out of her house, which has become a castle and a prison) is to play by her own delusions and pretend that Cecil B. DeMille is there to shoot another great picture with her.  Norma's descent into madness is depicted graphically when she goes down the stairs, while her butler (and ex-husband) Max (Eric Von Stroheim), gets the lighting and action going.
One Last Memorable Line
Both Blanche and Norma utter one great and memorable last line, which has entered into movie (and pop culture) lore.
Blanche says, "Whoever you are, I have always depended on the kindness of strangers," while being taken away by the asylum's administrator.
Norma says, "I'm ready for my close-up Mr. DeMille."
In many other ways, Williams' play was ahead of its time:
His depiction of Blanche's "loose morality" is at first non-judgmental, the fact that she had slept with many strangers while staying in a dubious and shabby hotel.  Later on, there is also implication of prostitution.
Through his relentless investigations, Stanley discovers (and then reveals to Stella) that Blanche was forced to give up her teaching post, when she was caught having an affair with one of her high school students.
This issue of sexual abuse of students by their teachers (often mature women with younger boys) has been in the news over the past two decades or so, but it was unheard of (or at least not discussed openly in the media) and thus ahead of its times in the 1940s, when Williams wrote his play.
Streetcar Named Desire also contains the most emotionally cruel scene I have seen in a Hollywood film.  Having heard of her dubious sexual and moral past, Mitch confronts Blanche directly.  He forces her to be seen–for the first time–in full light; all of their previous outings have been at night in the dark.  When she pleads with him, "Please marry me, Mitch," he responds, "I don't want to marry you.  You're are not CLEAN."
Mama Boy
Karl Malden as Mama Boy? You bet, winning Supporting Actor Oscar for it.
Speaking of Mitch's character, Williams reverses to stereotype of "Mama's Boy," usually applied to young and effeminate guys (John Kerr in Minnelli's Tea and Sympathy; Anthony Perkins in Hitchcock's Psycho).  In contrast, in Streetcar, Mitch is a middle aged, masculine, working class lad still dominated by his (unseen) mother.  Upon meeting Blanche and falling for her, he wants to take her home to meet his mother.  And later on, Mitch tells Blanche that his mother wished to know more about her, like what is her age?