The screen version of Tennessee William's Pulitzer Prize-winning A Streetcar Named Desire is one of director Elia Kazan's two or three masterpieces, featuring Marlon Brando in a towering performance that changed forever the nature of American acting.
Brando's work here is simply astounding, ranking as la crème de la crème of his long if checkered screen career, which contains several accomplished and impressive performances (On the Waterfront, Last Tango in Paris, The Godfather), but nothing compared to the raw power and animalistic magnetism displayed in that 1951 picture.
Decades later, the film (and the stage play before that) still stands out for any number of reasons:
For starters, never before did spectators observe such a display of dangerous brutal male force and frail beauty, first on the American stage, and then on screen.  The film's influence can still be felt in fashion, photography, sports and acting.
Set in a squalid New Orleans tenement, it is the story of the struggle of the lonely Blanche Dubois to hold on to her faded gentility against the heartless badgering of her brute brother-in-law, Stanley Kowlaski.  Her mental confusions and her final, unbearable to watch descent into madness, brought on by a series of confrontations and culminating in a merciless act of rape, give the film extraordinary emotional power, which is as impressive today as it was six decades ago.
The movie received critical acclaim when it was released in 1951, and was nominated for a dozen Oscars, winning four, including acting awards for Vivien Leigh's haunting Blanche, Kim Hunter's sensual Stella, and Karl Malden's sensitive Mitch.
At resent, however, it is the anti-hero performance of Marlon Brando, then only 25, who recreated his Broadway role as Stanley, that leaves an indelible mark on audiences.  It represents an all-time height in American screen acting and still the most powerful performance I have seen in my 35 years as a professional critic and scholar.
Streetcar Named Desire demonstrates how artistically good and emotionally powerful movies could be, when all the elements work together effectively, creating a coherent and integrated film, in this case Kazan's direction, expressive black-and-white cinematography, emotional acting by a superlative cast, and perhaps above all, a faithful adaptation of play that doesn't worry too much about "opening up" the material  or moving outdoors, instead emphasizing some of the best dialogue and most poetic lines ever written for the screen.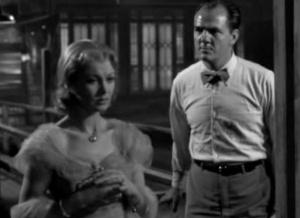 Commercially, Streetcar Named Desire was the third most popular movie based on a Tennessee Williams play, following Cat on a Hot Tin Roof in 1958 and Sweet Bird of Youth in 1962.  Indeed, for various reasons, it took some time for the movie to catch on, and, ultimately, strong word‑of‑mouth, especially about Brando's seminal work, proved to be much more effective in getting movie‑goers to the theater than the critics' rave reviews, or twelve Oscar nominations and four awards
From the start, however, there was a critical consensus over the film's overall quality. Bosley Crowther, the influential critic of the N. Y. Times, placed the picture as his sixth choice on his Ten Best List.
It is amazing and a credit to the American movie‑public that a film like Streetcar became the fourth top moneymaker of 1951. Put in historical perspective, the box‑office hits of that season were the historical spectacle Quo Vadis? starring Robert Taylor and Deborah Kerr; the fully animated Disney cartoon, Alice in Wonderland, with a musical score by Oliver Wallace; and the classic musical remake of Showboat, featuring Howard Keel and Ava Gardner in starring roles.
Warner, the studio behind the film, knew that it had a special property in its hands and thus allotted a bigger than average budget of $1,570,000, which in the end escalated to the negative cost $1,800,000.
The racy, edgy contents of the film, which includes brutality, rape, and madness, made it controversial even before shooting began.  Geoffrey Sherlock, later director of the Production Code Administration (PAC), said afterward: "Now we know that a good deal of what we decide in censoring movies is not morality, but taste. It all began with Streetcar Named Desire.
Tennessee Williams is considered by many critics to be the finest American dramatist, occupying a higher position than Eugene O'Neill, who preceded him, and Arthur Miller, who was his contemporary.  With few exceptions, the screen versions of Williams plays are better than those of other playwrights, perhaps because of the author himself involvement in their making (as consultant or scenarist) and their superlative casts, which include the best thespians of the American stage and screen, including Marlon Brando, Vivien Leigh, Paul Newman, Geraldine Page, and Laurence Harvey in leading roles, and a long line of supporting actors in secondary roles, such as Karl Malden, Kim Hunter, Mildred Dunnock, Burl Ives, Judith Anderson, Shirley Knight.
The first Williams play to be adapted to the big screen was The Glass Menagerie in 1950, followed by A Streetcar Named Desire (1951), The Rose Tattoo (1955), Baby Doll (1956), Cat on a Hot Tin Roof (1958), Suddenly Last Summer (1959), The Fugitive Kind (1960), Summer and Smoke (1961), Sweet Bird of Youth (1962), and The Night of the Iguana (1966).  Williams also adapted his short story The Milk Train Doesn't Stop Here Anymore into a screenplay, Boom, which was filmed in 1968.
Of all this material, there seems to be a critical consensus that the most effective screen version is A Streetcar Named Desire.
Kazan had directed the New York staging of Streetcar, but, initially, he did not want to be responsible for putting it on film.  Kazan said that he did not like to deal with the same subject twice but his friend Tennessee Williams, a very charming and persuasive man, finally convinced him he was the only man to make the picture.  Kazan spent a few months working on a screen treatment that would open up the play but failed to arrive at a satisfactory means.  He then decided that the best way to do it would be to take the original play and merely re-phrase it into the mechanics of a film shooting script.  Scenarist Oscar Saul was hired to help Williams do the job.
For the movie, Kazan recast most of the original Broadway players.  He rehired three of his principals — Marlon Brando, Karl Malden and Kim Hunter — and four of his supporting players — Rudy Bond, Nick Dennis, Peg Hillias and Edna Thomas.
Vivien Leigh Replacing Jessica Tandy
Jessica Tandy had played the leading role of Blanche Dubois in New York but Warner balked at the idea of Tandy playing the part in the film, due to their concerned about the film's box office. They needed a major international star.
Vivien Leigh, who had been playing Blanche in the London production, directed by her then husband Laurence Olivier, was an already 1939 Best Actress Oscar winner, for playing Scarlett O'Hara in Gone with the Wind.  Initially, there were artistic differences between her view of the part, a remote and fanciful concept and Kazan's favoring a more realistic portrayal.  The star and the director overcame their differences and the result was a Second Best Actress for Leigh, her second in 12 years.  Ironically the elegant English actress won two Oscars for playing a Southern belle.
Williams, who won the Pulitzer Prize and the New York Drama Critics Award for Streetcar Named Desire, later said that he considered Kazan's screen version a better and more powerful interpretation of his material than the Broadway production of his play.  The merciless penetrating camera enhanced the nuances of his subtle writing and the acting of the ensemble. Blanche becomes more fragile, vulnerable, and ultimately pathetic when viewed closely, and the brutal Kowalski scarier, more violent, and frightening.  As much of the tale centers on the intense interaction between these two characters, Kazan's camera moves in up close and (very) personal to examine the pain and anguish that theater viewers could only see and feel from a distance in their stationary and thus inevitably limited position.
Film's Plot: Narrative Structure
The narrative follows very much the structure of countless Hollywood films, which center on the arrival of an outsider and his/her impact on their loved ones, be they family members or friends.
The film's synopsis begins with Blanche landing in New Orleans and locating, after having taken a streetcar named Desire, transferring to one named Cemetery and getting off at Elysian Fields.  All of these names are symbolic and their meaning becomes clear as the text unfolds. Upon arrival, the snobbish Blanche is shocked to see the drab apartment of her sister Stella (Kim Hunter), which is in a murky and noisy section of the old French Quarter.
From the first scene, it becomes clear that the two sisters could not have been more different–in fact, they are opposites opposites.  Though lying about her age, Blanche is older, in the early 30s, fragile, pretentious, and neurotic given to affectations of ethics, morality, gentility, art, and literature; she speaks French and makes allusions to Alexander Dumas' famous play, Lady of the Camellias, which was made into a film several times (one starring Vivien Leigh, though the best version is till Garbo's 1933 version).
In contrast, Stella is younger, healthy, natural, uncomplicated and unpretentious. Taking pride of her strong erotic desire. She seems satisfied, emotionally and especially sexually, in her marriage to the crude Polish-American working-class husband Stanley Kowalski (Brando).
Stanley, who immediately sees through Blanche, resents having his sister-in-law staying with them (for an unspecified time). He quickly realizing that Blanche is lying about her past life, fabricating a glamorous life style, defined by rich beaux (gentlemen callers) who presumably shower her with expensive clothes and gifts.  Lacking sympathy or understanding, Stanley ignores Stella's pleas to treat the obviously troubled and self-deluding Blanche with greater gentility and respect.
Blanche irritates him with her pretensions to an aristocratic background. When she relates how she had to sell Belle Reve, the family estate, his only concern is about the money derived from the sale. He demands to see the papers, claiming that under Louisiana's Napoleonic Code what belongs to one marriage partner also belongs to the other: "It looks to me like you been swindled, baby, and when you get swindled under the Napoleonic Code I get swindled too.  And I don't like to be swindled."  Stanley then searches through Blanche's traveling trunk and wonders how she, a small town school teacher, acquired so many elegant dresses, fur pieces, and fine jewelry.
Relentlessly inquisitive, Stanley finds out that Belle Reve was lost on delinquent mortgages.  She tells him: "There are thousands of papers stretching back over hundreds of years, affecting Belle Reve.  As piece by piece our improvident grandfathers exchanged the land for their epic debauches.  Till finally all that was left, was the house itself and about twenty acres of ground including a graveyard, to which now all but Stella and I have retreated."  Further probing by Stanley reveals lies and cracks in her strange stories of her past, motivating him to conduct inquiries on his own in the town in which she lived.
Stanley's poker playing friends come in for their weekly game, and one, Mitch (Karl Malden) is immediately smitten with Blanche.  The roughneck bachelor, who despite his age is still mother-dominated, is taken by her ladylike manners and he tries to play the gentleman.  As the poker game progresses, Stanley gets drunk and truculent, hitting is wife, smashing the radio, and getting angry at Mitch for being distracted by Blanche.
Don't Ever Leave Me, Baby
Stella and Blanche flee the apartment, staying with Stella's friend Eunice (Peg Hillias) upstairs.   When the game is over and the men gone, Stanley stands outside and yells for his wife, Stella, in what's one of the film's most famous and iconic scenes in the film. Stella appears at the top of the staircase in the front of the building and, despite his awful behavior, she slowly comes down.  He falls to his feet and presses his face to her crotch, sobbing like a baby.  He rises and she kisses him passionately, crying, "Don't ever leave me, don't ever leave me, sweetheart, baby."
Stanley's investigations demonstrate sordid bits of Blanche's dubious past.  She was once married but her husband, younger than she, died, under mysterious circumstances (a shot is heard on the soundtrack, indicating suicide). She then had numerous affairs with men, many of them strangers passing through town.  The evidence points to nymphomania and possibly prostitution. Worse yet, Blanche was fired from her position as a school teacher for moral laxity, after seducing a school boy of 17.  She shows weakness for very young men, which is clear when a boy comes to the apartment to collect some money, and she begs him for a kiss.
Stanley makes all of these revelations to Mitch, which costs Blanche her one remaining chance of escape.  It also costs Stanley his chance to get rid of Blanche, who has now been living with him and Stella for five months.
Turning point occurs, when Stella leaves the apartment to go to the hospital to have a baby, and the two foes are left to face each other.  One evening, after much taunting, Stanley forces himself on Blanche and rapes her.  She tries to fight him off as he insists, "We've had this date with each other from the beginning."
The final scene shows a doctor and a nurse arriving at the Kowalski apartment.  They are from a mental institution and they have come for Blanche.  She imagines they bring news from an old beau,  who wants her and will rescue her. She leaves the apartment on the arm of the doctor, smiling at him, while saying the lay's most famous (and quoted) line: "Whoever you are, I have always depended on the kindness of strangers."
Stella, devastated by the departure, angrily tells the unrepentant Stanley, "Don't you touch me.  Don't you ever touch me again."  Later, holding the baby in her arms, she ignores Stanley as he calls for her.  She goes to Eunice's apartment, telling  the baby, "We're not going back in there.  Not this time.  We're never going back.  Never, never back, never back again."
The movie ends on an ambiguous note.  As the voice of the brutish Stanley rings out, we left wondering if and when will Stella change her mind and go back to her husband.
Despite its stage origins, Streetcar Named Desire is a movie masterpiece.  Kazan's direction is taut, and the mise en scene is precise. Largely told in dialogue, the staging never falters in its tense pace of showing endlessly sizzling emotions.
Production values are polished and technical credits are of the highest order. Richard Day's sets combine fantasy and realism, allowing ace cinematographer Harry Stradling to create truly haunting, artfully lit images.  The musical score, by Alex North was new to Hollywood, is particularly effective; the Capitol recording of its themes has become a collector's items.  North had previously scored stage plays and documentary films in New York, but it is his richly nuanced jazz-tinted score for this picture that elevated him to the front rank of film composers.
Credits
Charles K. Feldman Production, released by Warner.
Produced by Charles K. Feldman.
Directed by Elia Kazan.
Screenplay by Tennessee Williams, adapted from Williams' stage play by Oscar Saul.
Running time: 125 minutes.
Photographed by Harry Stradling.
Art direction by Richard Day.
Edited by David Weisbart.
Musical score by Alex North.
Cast:
Blanche DuBois (Vivien Leigh)
Stanley Kowalski (Marlon Brando)
Stella (Kim Hunter)
Mitch (Karl Malden)
Steve (Rudy Bond)
Pablo (Nick Dennis)
Eunice (Peg Hillias)
A Collector (Wright King)
A Doctor (Richard Garrick)
The Matron (Anne Dere)
Mexican Woman (Edna Thomas)
Intertextuality:
Woody Allen has been both inspired and influenced by A Streetcar Named Society.
In Sleeper, his 1973 sci-fi comedy, Allen's Miles Monroe tries to regain his identity by acting out a scene with Luna Schlosser (Diane Keaton) from that movie, except that Keaton plays Stanley Kowalski (originated by Brando) and Allen imitates Blanche DuBois (Vivien Leigh).
Woody Allen's Blue Jasmine of 2013, starring Cate Blanchett in an Oscar-winning performance is a reworking of the 1951 film, with Blanchett plays Blanche and Sally Hawkins a version of her sister Stella.