Grade: A- (****1/2 out of *****)
Parting Glances, writer-director Bill Sherwood's 1986 stunning debut, tackles AIDS, the new, urgent epidemic that could not have been ignored in a film made about gay life in the 1980s, especially one taking place in New York City, a gay metropolitan.
The first American (independent, of course) film to address the AIDS pandemic, Parting Glances is, unfortunately, the only film completed by the gifted Bill Sherwood, who died of AIDS complications in 1990.
If you want to know more about gay films and gay directors, please read my book: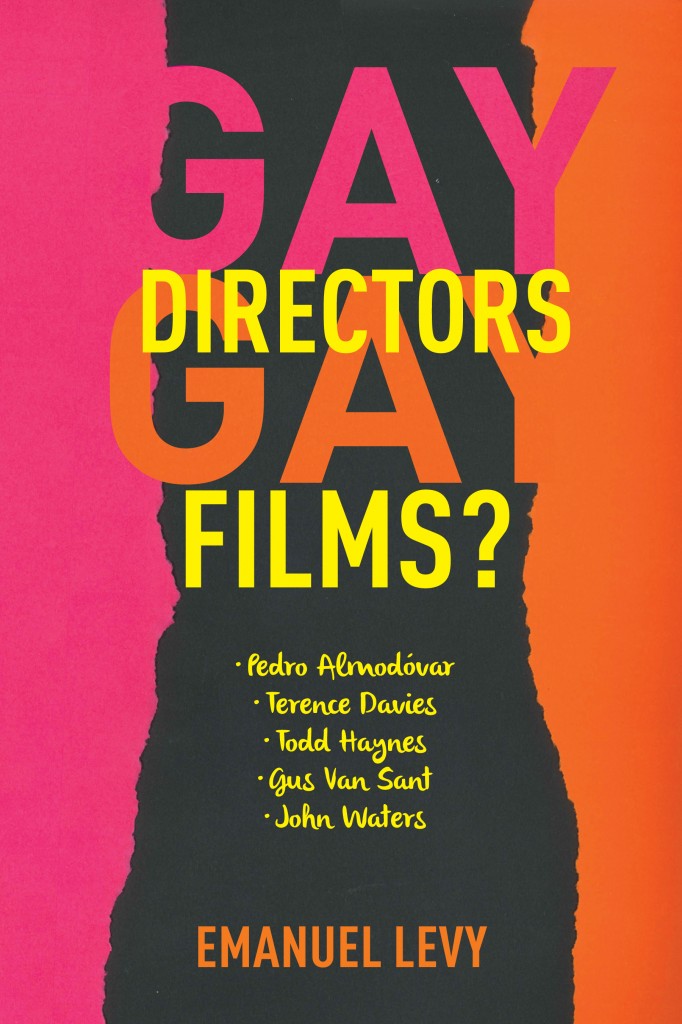 Set on the Upper West Side, the story depicts 24 hours in the lives of three gay men, who form a most intriguing triangle, though not a ménage a trois. "I intended the film as an homage to New York and also to the gay community, which, in spite of the AIDS crisis, continues to be such a life force," said Sherwood.
Parting Glances was not the first gay yuppie picture, but it represented a significant contrast to such safe and inconsequential fare as Making Love (1982), which presented a fake romantic portrait in a fake setting. 
Your Dick Knows What It Likes
More significantly, it was one of the first gay-themes movies that did NOT deal with the problem of coming out of the closet, which dominated most gay fare of the 1970s and 1980s.  The characters' sexual orientation has long been resolved when the story begins, as the youngest character, a Columbia freshman, says: "Your dick knows what it likes." 
Sherwood showed the audience a "new world" and a new lifestyle from the inside, through the eyes of its own denizens.
Moreover, unlike the masochistic and self-loathing The Boys in the Band(1970), written by a gay playwright but directed by a straight man (William Friedkin), "Parting Glances" is ultimately upbeat in tone–despite its AIDS theme. The movie shows a group of gay men who form a community that determined to help itself, even when it's ignored by the larger society.
Fully rounded lives are presented through the break-up of a relationship (hence the title) that's amiable but obviously not particularly deep or mutually gratifying.
Structured as a romantic triangle, the script packs everything into 24 hours in the lives of Michael (Richard Ganoung), an editor, and his lover of six years, Robert (John Bolger), an official working for an international health organization. Michael and Robert enjoy a comfortable lifestyle: they live in a nice apartment, listen to Brahms, go to dinner parties, have regular sex.
However, Michael is feeling a little too settled in a bourgeois lifestyle–something crucial is missing from his life. He's still tormented by his first love, Nick (the very young Steve Buscemi), a rock singer who's now dying of AIDS.
When the tale opens, Robert is preparing to leave for a long stint in Africa, allowing Michael to reflect on their bond.  This triggers a series of flashbacks to Michael's love for Nick, who represents a more exciting, wilder, more reckless past.
Michael drops by at Nick's to cook, clean, and listen to his sardonic musings. He brings him a record of Verdi's "Don Giovanni," and Nick gets stuck on the part where Don Giovanni goes up in flames, refusing to repent.
Similarly, in the film, Nick declines to renounce his seemingly wild past. As writer, Sherwood makes Nick's character as the tale's moral center–the suffering spirit of modern gay life–the proud, unrepentant person, who got struck by a strange virus that initially afflicts homosexual men, later termed as AIDS.
Michael, embodying the sort of a gay everyman, is poised between his former and current lover, between a thrilling, dangerous past and unexciting domesticated present. Complicating the issues is a potential new lover, Peter, who works in a record store. When Michael meets Peter, he sees a 1980s variation of his own youth, except that Peter is apolitical and unformed drifting from one party to another looking for adventure. Peter may be more comfortable with his sexuality, but he's also less interesting and less complex than either Michael or Nick.
Sherwood attempted something ambitious, as the Village Voice critic David Edelstein noted in his review: "Crafting sort of the State of the Union for the AIDS era, a look at where gay men have been, where they might be going, and the uneasy ground on which they stand." Wishing to restore reality and dignity to gay lifestyles, usually depicted in sensationalistic manner, Sherwood treats gays as ordinary people who, like their "straight" counterparts, work, argue, reconcile, and make love. 
Sherwood broke new ground: For the first time, gay men could watch themselves up onscreen and like what they see.  Rather than being hysterical or sentimental about AIDS, the film is elegiac and contemplative: Parting Glances, like the later  indie film, Longtime Companion of 1990, ends with a lament for a bygone, free-spirit past.
Motivated by the public's "astounding ignorance" of gay lifestyles, director Sherwood claimed: "One of the problems Hollywood has had dealing with this subject is that it's usually approached so gingerly." He cites the film Kiss of the Spider Woman (1985), which takes one hour for the characters (played by William Hurt and Raul Julia) to kiss, and then it's set up to shock the audience. "This is why I had the men kissing right from the start, to get it over with right away and allow us to get on with their interaction with other people and with what's going on in all their lives."
The movie's opening scene is attention-grabbing: A sturdy, blue-eyed jogger bounds past a man who's reading a book. He kicks him playfully in the butt and nuzzles his neck. A moment later, the two-step into their apartment and the jogger paws the reader. The reader wants no part of it, but the jogger gives him a lingering kiss and the reader finally succumbs to his charm.  The camera then follows them to the bedroom, where their sneakered feet are entwined.  In the next shot, the door of the shower opens and the couple stand amidst steam, with the jogger's arms around the reader. The jogger and reader, Robert and Michael, are a couple.
Sherwood wished to strike a more universal chord, to show that, essentially, gay and straight men are not all that different, which was a novelty at the time, considering the stereotypical portrayal of gay men in the mass media.  A Soho cocktail party provides him the opportunity to turn gay and straight stereotypes upside down. The only person seen cruising is straight–he's caught in the bathroom with a German artist while the latter's husband fumes outside the door. And it's a gay man, Robert, who advises a female friend on how to maintain a difficult relationship.
Cast
Richard Ganoung as Michael
John Bolger as Robert
Steve Buscemi as Nick
Adam Nathan as Peter
Kathy Kinney as Joan
Patrick Tull as Cecil
Yolande Bavan as Betty
Andre Morgan as Terry
Richard Wall as Douglas
Jim Selfe as Douglas's Sidekick
Kristin Moneagle as Sarah
John Siemens as Dave
Bob Koherr as Sam
Theodore Ganger as Klaus
Nada as Liselotte
Credits
Directed, written by by Bill Sherwood
Produced by Nancy Greenstein, Paul L. Kaplan, Yoram Mandel, Arthur Silverman
Company: Rondo Productions
Distributed by Cinecom Pictures
Release date: February 19, 1986
Running time 90 minutes
End Note
On July 16, 2007 as a part of the Outfest Legacy Project, a restored print of Parting Glances received its world premiere at the Director's Guild of America in Los Angeles. The film's four major stars, Richard Ganoung, John Bolger, Steve Buscemi and Kathy Kinney, were all in attendance, and participated in a panel discussion after the viewing.
The restoration print received its New York City premiere on October 29, 2007 at the Lincoln Center for the Performing Arts.