In his fifth film, Minari, Lee Isaac Chung, uses his own childhood as point of departure and source of inspiration in telling the autobiographical story of a Korean American family trying to sustain a farm in rural Arkansas.
Produced by A24 and Brad Pitt's company Plan B, this engaging Korean American coming-of-age tale world-premiered at the Sundance Film Festival back in January.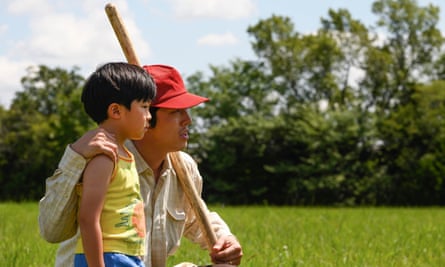 Alan S Kim and Steven Yeun in Minari. A24.
Lee Isaac Chung's nuanced portrait of a family struggling to survive is both particular in its specific locale and time and universal in its broader emotional and existential concerns
Set in the early 1980s, it's the tale of Korean parents Jacob (Steven Yeun) and Monica (Yeri Han), who have moved their American-born children out of the city into life in rural Arkansas.
Jacob aims to turn the remote land into a fertile farm, which will grow Korean vegetables and then sell them to other immigrant families. But Monica is unsure, wary of his lofty ambitions and concerned about its impact on the family.
Their son David (Alan S Kim) has a heart murmur but is too preoccupied with causing mischief to care, while their daughter Anne (Noel Cho) is restless and bored.
Yeun (The Walking Dead) renders another compelling performance, very different from his chilling turn in Burning.
The seven-year-old Kim, a rare natural talent, is mischievous and sweet, carrying a great deal of the story on his small shoulders.
There's also a strong, mostly comic role for Yuh-Jung Youn as the mischievous grandmother, who delivers most of the film's biggest laughs.
Minari offers an engaging view of the immigrant experience while not neglecting the inevitable hardships and obstacles.