Docu Probes 'Carol' Author Patricia Highsmith's Complex Love Life
Loving Highsmith takes an in-depth look at Highsmith's relationships with women, as well as her position in the queer literary canon.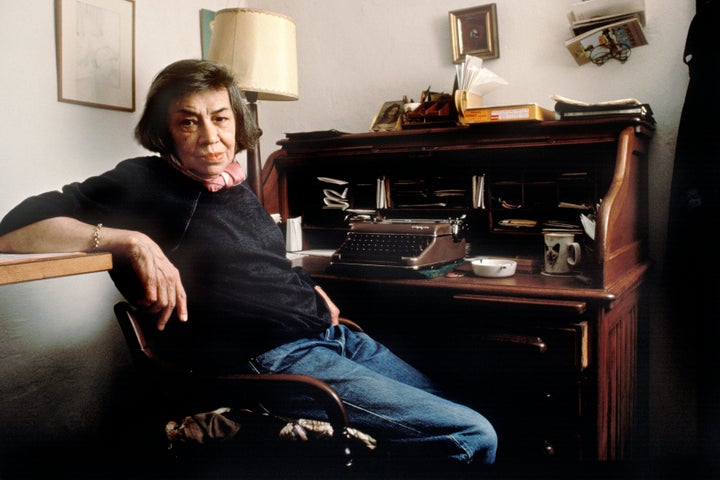 Eva Vitija has examined many of Highsmith's personal notes and diaries for her documentary Loving Highsmith, which Zeitgeist will release in September.
The film, which was written and directed by Vitija, made its world premiere at the Sydney Film Fest and later bowed at the Frameline Film Fest, in San Francisco.
Loving Highsmith offers a unique look at the life of the celebrated American author, focusing on Highsmith's quest for love and her troubled identity through her personal diaries and the intimate reflections of her lovers, friends and family.
The feature interweaves archival material of Highsmith and her most famous adaptations with excerpts from her unpublished writings, which voiced by actress Gwendoline Christie (Game of Thrones).
The film sheds new light on her life and writings, the best known of which were adapted for the big screen: Strangers on a Train by Hitchcock, The Talented Mr. Ripley and Carol, by Todd Haynes, a semi- autobiographical novel and the first lesbian story with happy ending in 1950s America.
Highsmith herself was forced to lead a double life and had to hide her vibrant love affairs from her family and the public, reflecting on the ever-present subject only in her personal unpublished writings.
It's like falling into a bucket of oysters," she wrote about the kisses she was forced to endure at 16 from one approved boyfriend at the end of dining-and-dancing evenings. "Sexual intercourse for me is like steel wool in the face," she later wrote of her experiences with men.  Guilt clouded her feelings and she saw doctors, trying to change in order to please her mother.
Male Protagonists
Those conflicted feelings may have also been responsible for her preference for male protagonists in her fiction, with the notable exception of Carol.
A Texas native, Highsmith spent much of her adult life in Europe, settling in Switzerland. She died in 1995 at age 74, just four years before The Talented Mr. Ripley was adapted into a Hollywood movie. directed by Anthony Minghella and starring Matt Damon and Jude Law.
Loving Highsmith contains interviews with several of Highsmith's girlfriends. It depicts the author as a divisive figure in the queer literary canon: She is believed to have viewed homosexuality as a negative trait (defect).
Her critics use her novel The Talented Mr. Ripley (which has been made as a French film and then a Hollywood movie) as a case of mixing homoeroticism with homicide.
Vitija emphasizes that Highsmith's "wildly romantic and poetic side" is the focus of her film. "It was a Patricia Highsmith completely different from the one I was reading about in biographies or mainly articles in newspapers," she said.
The documentary was produced by Franziska Sonder and Maurizius Staerkle Drux, and co-produced by Carl-Ludwig Rettinger, in co-production with Lichtblick Film, SRF Schweizer Radio und Fernsehen, RSI Radio Televisione Svizzera, and ZDF/Arte.