(Supernatural comedy-thriller)
Four gifted and attractive actresses struggle hard to render a semblance of dramatic coherence to The Craft, a neatly crafted film that begins promisingly as a black comedy a la Heathers before succumbing to a tricky machinery of special effects.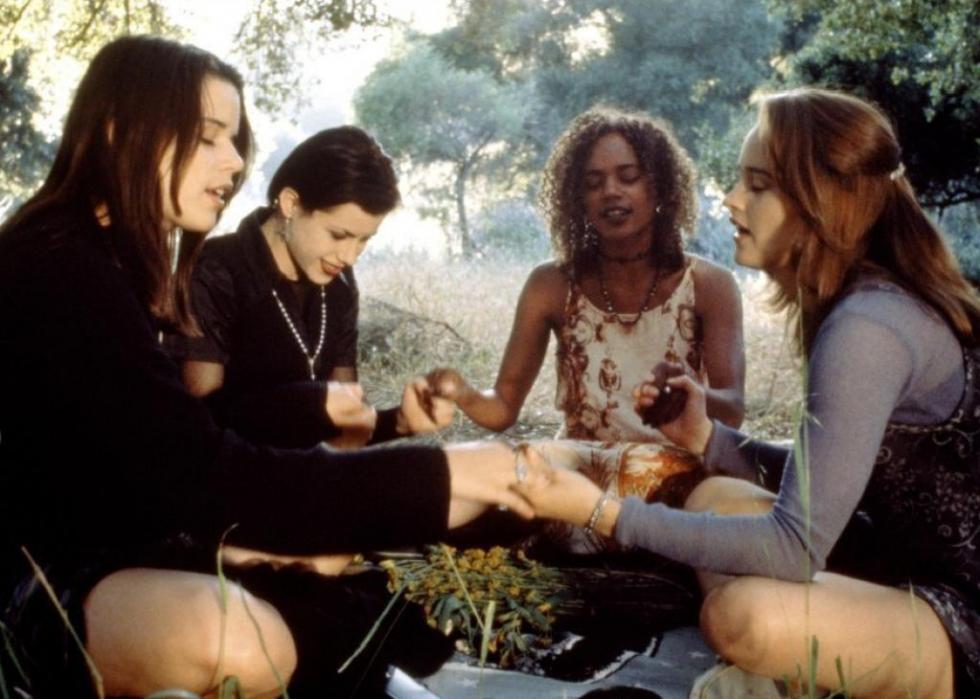 Still, young audiences, particularly women, are likely to connect with this energetic high-school tale about vengeful empowerment of rebellious misfits, resulting in a reasonable spring B.O. entry for Columbia.
Recent American movies about modern witchcraft, most notably Disney's Hocus Pocus, have been disappointingly humorless, effects-laden concoctions. The Craft, produced by Douglas (Wolf) Wick and co-written by Peter (Flatliners) Filardi and Andrew Fleming, is also an artistic disappointment. However, its creators have figured out that a movie based entirely on special effects will fail to involve its viewers emotionally. With this in mind, they have constructed a supernatural comedy-thriller that features four likable characters grounded in a realistic setting.
Story begins with the relocation of Sarah (Robin Tunney) to yet another high school, L.A.'s St. Benedict's Academy, where she's at first completely isolated. Living with her dad, she still suffers the effects of her mother's death at childbirth and her own suicide attempt. Not surprisingly, Sarah attracts the attention of three outsiders who've also found themselves banished to the margins of the school's pecking order–they're described as "the bitches of Eastwick."
The strongest of the bunch is white trash Nancy (Fairuza Balk), whose mother and brutish stepfather endlessly bicker and fight. The other clique members are Bonnie (Neve Campbell), an insecure teenager badly burned and scarred in a fire, and Rochelle (Rachel True), an overachiever who hides her wounds deep inside. Displaying a knack for "the craft," Sarah joins their secret circle, thus completing the four corners needed for magical spells: north (earth), south (fire), east (air), and west (water).
The Craft owes more than a bit to the 1989 indie Heathers, a satire which also revolved around the terror executed by four high school bitch-queens. The movie depicts, often quite sharply and humorously, the adventures of tough girls who know they'll never fit in, but are nonetheless determined not to let their peers back them into a corner. Early episodes in which the girls probe the dark corners of their minds, as they embark on a journey that takes them from passive impotence to intoxicating empowerment, are cleverly scripted and pointedly acted. The revenge that Sarah and her cohorts take against obnoxiously insensitive guys like cocky football jock Chris (Skeet Ulrich) are singularly biting.
Two delicious sequences underline how engagingly funny The Craft could have been had it not surrendered to the lure of special effects, which awkwardly dominate the last reel. The scene in which racist student Laura (Christine Taylor) gets her comeuppance at the pool, losing her beautiful blond hair, is horrifying and hilarious in a wicked manner that will make De Palma proud.
And a later episode, when Nancy's mom, Grace, (resourcefully played by Helen Shaver) shockingly finds out–courtesy the craft–that her abusive macho-pig hubby has left a huge insurance policy is so poignant that the audience joins her hysterical reaction with a big liberating howl. Grace, who utterly lacks finesse, goes on a shopping spree, buying herself a tacky purple suit, a gaudy orange couch and a jukebox that plays only Connie Francis songs.
Unfortunately, pic begins to lose its narrative pull after the first reel, and yarn progressively deteriorates into a series of well-executed special effects, culminating in a power play between Nancy and Sarah which is staged in routine horror-movie style. Nonetheless, Fleming, who previously directed the romantic comedy Threesome, gives the film's early segments a focused feel and tight pulse. And he has coaxed marvelous performances from his inviting ensemble, particularly the appealing Tunney, who in her first leading role demonstrates strong potential for becoming a star.
Tech contributions are adroitly pro, especially Alexander Gruszynski's atmospheric lensing, Marek Dobrowolski's vivid design, and Graeme Revell's cutting-edge music. Sony Imageworks visual effects are appropriately creepy, most notably a sequence with an army of crawlers which amasses the largest number of reptiles seen on screen in recent memory.
Too bad The Craft is marred by structural problems, for its tale of maladjusted girls who turn to witchcraft as a way out of their misery could have struck a stronger chord with female adolescents.
Credits
MPAA Rating: R
Running time: 100 minutes.
A Columbia release of a Douglas Wick production. Produced by Wick. Executive producer, Ginny Nugent. Co-producer, Lisa Tornell. Directed by Andrew Fleming. Screenplay, Peter Filardi and Fleming, based on Filardi's story. Camera (Technicolor, color), Alexander Gruszynski; editor, Jeff Freeman; music, Graeme Revell; executive music producer, Ralph Sall; production design, Marek Dobrowolski; art direction, Gae S. Buckley; set decoration, Nancy Nye; costume design, Deborah Everton; makeup, Jeffrey Hamilton; sound (Dolby), Jim Stuebe; supervising sound editor, Bobby Mackson; special effects coordinator, David Kelsey; visual effects produced by Sony Imageworks; visual effects supervisor, Kelley R. Ray; assistant director, John R. Woodward; casting assistant, Amy Gerber.
Cast
Sarah……….Robin Tunney
Nancy……….Fairuza Balk
Bonnie……..Neve Campbell
Rochelle……..Rachel True
Chris……….Skeet Ulrich
Grace……….Helen Shaver
Mr. Bailey…Cliff De Young
Laura……Christine Taylor
Lirio………Asumpta Serna