Juho Kousmanen won the festival's Un Certain Regard prize for his last film, five years ago.
The Premise:
Juho Kousmanen's Compartment No. 6 tells the story of a sensitive Finnish archeology enthusiast (Yuliya Aug) and a brusque Russian miner (Yuriy Borisov), who wind up sharing a second-class cabin on a long train trip shortly after the fall of the Soviet Union —
Finland has its strongest shot yet at landing a second nomination for the best international feature Oscar, some 19 years after Aki Kaurismaki's The Man Without Past.
Kuosmanen had won the Cannes Festival's Un Certain Regard prize five years ago for The Happiest Day in the Life of Olli Maki.
The script, which he, Andris Feldmanis and Livia Ulman have adapted from a novel by Rosa Liksom, is an intense, talkative claustrophobic drama, mostly shot in tight quarters (as the title suggests).
The film engendered a hugely warm response at its Cannes world premiere, and after the end-credits, Kuosmanen addressed the audience.
It is currently being screened at cinemas in France, Switzerland, Finland and Italy and is set to be released in the US and the rest of Europe in early 2022.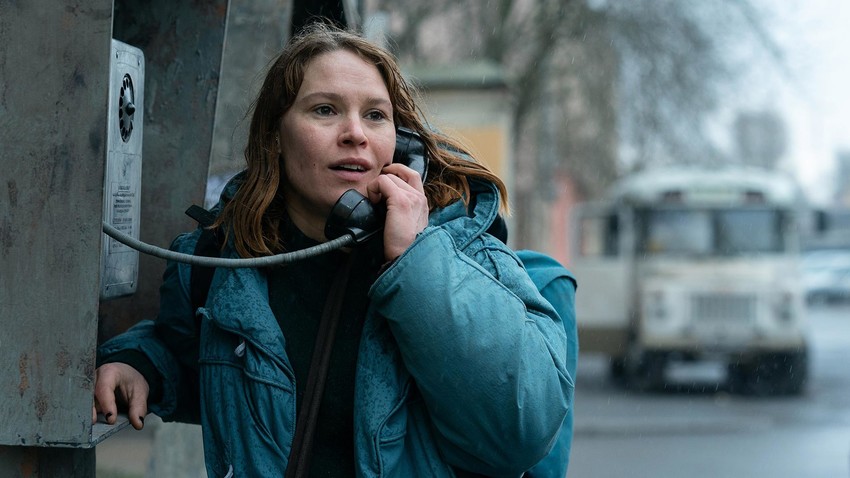 Compartment No. 6 is not an easy movie to summarize in terms of plot, or categorize in terms of genre.  It's a road movie of sorts, told with incredible authenticity, empathy and gentle humor.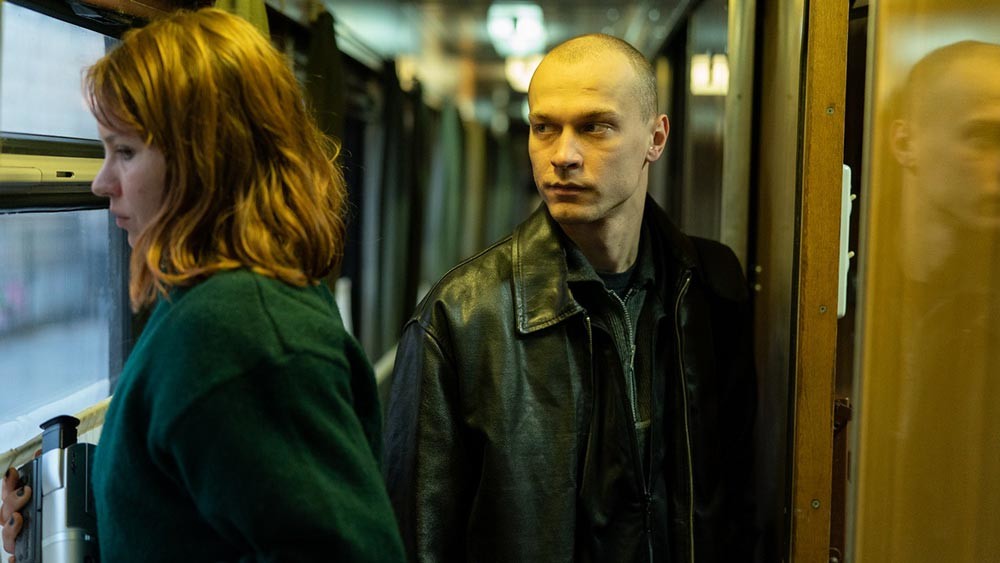 Compartment No. 6 has nothing to do with Anton Chekhov's "Ward No. 6." which is set in an old mental asylum.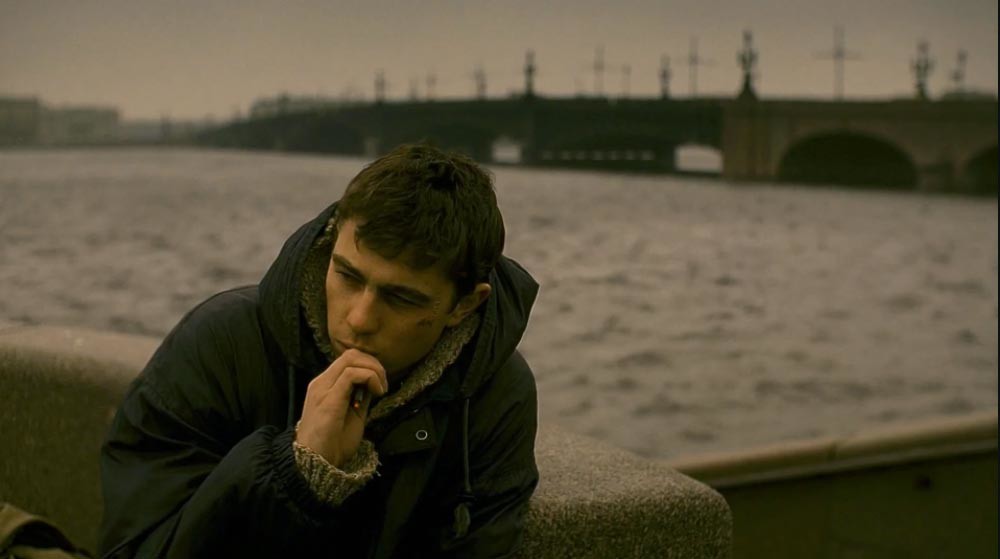 It is produced by Sergei Selyanov, the same Russian producer who worked with Balabanov on all his movies, including the two Brat dramas.
The Finnish filmmaker, who is 42, managed to put the clock back in the past, recreating an atmosphere of reckless freedom and openness to the world, which was characteristic of the early post-Soviet Union reality.
When the tale begins, a group of intellectuals is having a party in a spacious Moscow apartment. Happy, tipsy people are trying to identify the Victor Pelevin novels from iconic quotes, raising in the process some philosophical questions on the meaning of life.
Seidi Haarla as Laura in 'Compartment No. 6'. Juho Kuosmanen/CTB Film Company, 2021
Laura (played by Seidi Haarla), an archeology student from Finland, shares a bohemian apartment with her talkative girlfriend, the short-haired and sexy Irina, who's a professor of literature.
It's Laura's last night in Moscow. She and her friend are supposed to see some ancient petroglyphs (rock paintings) in Russia's Arctic port city of Murmansk, around 2,000 km away from the capital.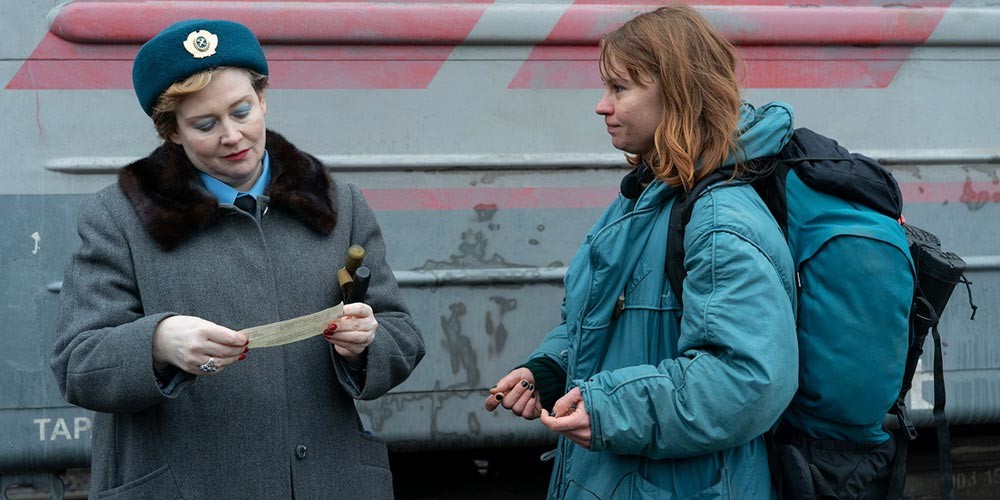 Russian actress Yulia Aug and Seidi Haarla in 'Compartment No. 6'. Juho Kuosmanen/CTB Film Company.
But Irina dumps Laura at the last minute. Instead, the Finnish girl, who speaks Russian fluently, boards the train alone, only to find out that her 'Compartment No. 6' neighbor is Lyokha, an ill-mannered, shaven-headed Russian miner who's heavy smoker and drinker.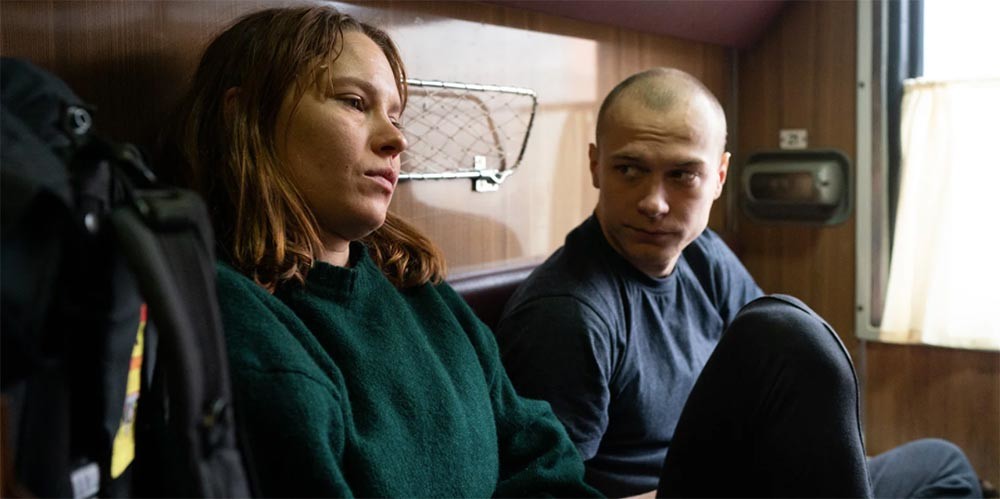 Seidi Haarla and Yuri Borisov in 'Compartment No. 6'. Juho Kuosmanen/CTB Film Company.
At first, Laura is doing her best to get away from Lyokha and his dirty foul language jokes, until she realizes that there is more to the man than what she had originally thought.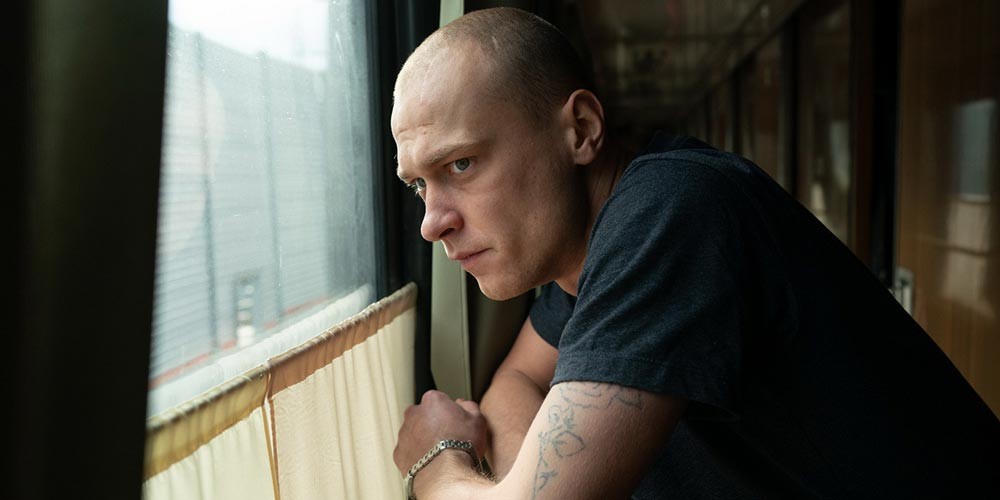 Russian actor Yuri Borisov in 'Compartment No. 6'. Juho Kuosmanen/CTB Film Company.
Laura and Lyokha display both tension and chemistry as their characters try to find a common language. Both are bitter loners, in desperate need to be loved.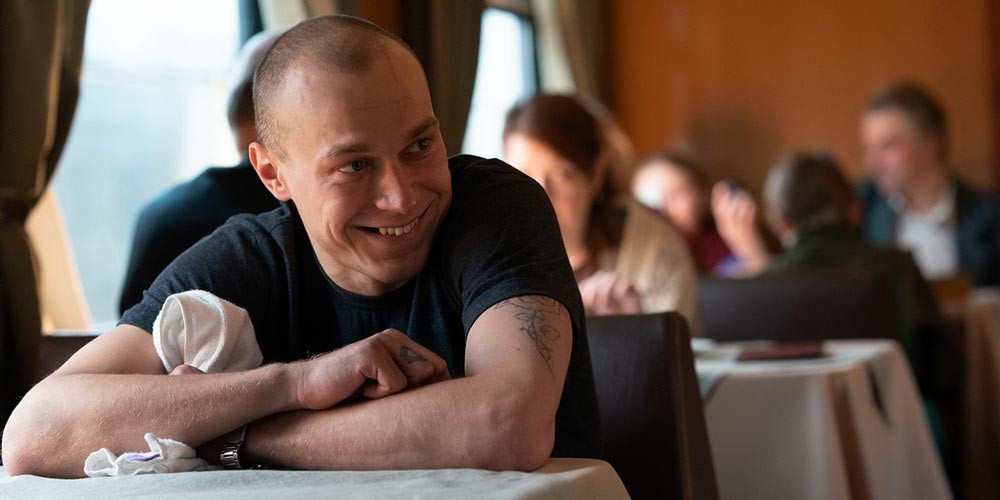 Yuri Borisov as Lyoha in 'Compartment No. 6'.
People are so rarely what they seem and Lyokha is no exception. Upon closer examination, the Russian man turns out to be the epitome of selfless compassion and altruism, always ready to lend a helping hand to a complete stranger. Laura, on the other hand, reveals herself to be the embodiment of Nordic aloofness, loneliness and uncertainty.
The Tone and Message:
It's a melancholic drama that's also unexpectedly uplifting in its insights into human solitude and connection. Indeed, what begins as a nightmare veers off in another direction altogether.
Perception can be (and often are) deceptive, which becomes clear when the rude Russian soon begins to show his true nature as a more sensitive and compassionate.
Opposites attract: both are eager for a break from their solitude and to forge a bond.  They go on to experience some of the best moments of their life in an unlikely space–a dirty, shabby, smelly train, running through a blizzard towards a seemingly unknown and indefinite future.
An honest story of soul-searching, Compartment No. 6 is only gloomy on the surface, but ultimately, it reveals itself to be a tale of promise and hope–against all odds.