H.K. Breslauer's The City without Jews (Die Stadt ohne Juden).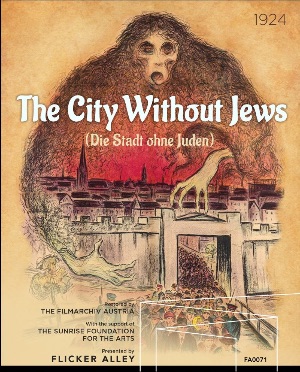 Die Stadt ohne Juden (The City Without Jews) is a 1924 Austrian Expressionist film by Hans Karl Breslauer, based on the novel by Hugo Bettauer.
The film, which premiered in July 1924 in Vienna, is one of the few surviving Expressionist works from Austria.
In his novel, published in 1922, Hugo Bettauer creating an allegorical vision of the near future, though the book was intended as as a satirical response to the antisemitism of the 1920s.
It immediately became Bettauer's most popular work, translated into several languages, and sold over a quarter of a million copies.
Shortly after the premiere of the film Hugo Bettauer was murdered by Otto Rothstock, a former member of the Nazi Party, lionized by the anti-semitic Austrians; he was released less than two years after having been committed to  psychiatric institution.
The new world-premiere edition features a newly commissioned score by the acclaimed silent film ensemble, pianist Donald Sosin and Klezmer violinist Alicia Svigals.
Bonus materials include Victims of Hatred (Opfer des Hasses) (1923) with music composed and performed by Donald Sosin;
Conversation with Dr. Nikolaus Wostry, Filmarchiv Austria (2019) moderated by Dr. Margrit Frölich;
Filmarchiv Austria's crowdfunding campaign video Saving Die Stadt ohne Juden (2016)' METRO Kinokulturhaus' 2018 exhibition of The City without…Jews, Muslims, Refugees, Foreigners (2018); souvenir booklet featuring new essays by Ernst Kieninger, Armin Loacker, Anna Dobringer, Fumiko Tsuneishi, and Cynthia Walk;
Introduction to the edition's unique bonus features by Margrit Frölich.