Cineliteracy: What You Need to Know about 1928 as a Movie and Pop Culture Year
Significant Film Events:
January 6:
Charlie Chaplin's comedy The Circus premieres at the Strand Theatre in New York City.
January 15:
Five months after its premiere at the Criterion Theater in New York, Paramount's Wings opens in Los Angeles. The film would later (1929) win the first Oscar Award for Best Picture.
April 21:
Carl Theodor Dreyer's silent masterpiece The Passion of Joan of Arc is released in Denmark on April 21, 1928, and in Paris on October 25, 1928.
The Passion of Joan of Arc
Theatrical release poster
July 6:
Lights of New York (starring Helene Costello), released by Warner, is the first all talkie feature, as dialog is spoken throughout. Previous releases Don Juan and The Jazz Singer had used a synchronized soundtrack with sound effects and music, with The Jazz Singer having a few incidental lines spoken by Al Jolson.
September 19:
The Singing Fool, Warner's follow-up to The Jazz Singer, is released. While still only a partial-talkie (sequences still featured intertitles), 66 minutes of the film's 105 minute running time are in dialogue or songs, making it the longest talking picture yet. (Lights of New York is only 57 minutes.)
As the year's highest-grossing film, it's also Warner's top-grossing film for years, and the most financially successful film of the career of Al Jolson.
October 23:
RKO is created as a studio.
November 10:
At the beginning of White Shadows in the South Seas, MGM's mascot Leo the Lion roars for the first time, making it a popular logo.
November 18:
Disney's Steamboat Willie premieres, marking the introduction of Mickey Mouse. This animated short includes a soundtrack, created in post-production, with sound effects, music, and dialogue.
December 25:
In Old Arizona, released by Fox Films, is the first sound-on-film feature-length talkie, utilizing the Movietone process. Previously features used the Vitaphone sound-on-disc process.  This Western was the first sound film primarily shot outdoors.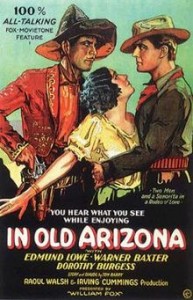 Academy Awards (later known as Oscar Awards)
Best Picture: Wings (Paramount Pictures)
Best Unique and Artistic Picture: Sunrise: A Song of Two Humans (Fox Film)
Best Director, Dramatic Picture: Frank Borzage, 7th Heaven
Best Director, Comedy Picture: Lewis Milestone, Two Arabian Knights
Best Actor: Emil Jannings, for 2 films, The Last Command and The Way of All Flesh
Best Actress: Janet Gaynor, for 3 films, 7th Heaven, Street Angel, Sunrise: A Song of Two Humans
Top-Grossing Films
The top ten 1928 released films by box office gross in North America are as follows:
1 The Singing Fool, Warner Bros. $3,821,000
2. Wings, Paramount, Pictures $2,150,000
3 Street Angel, Fox Film Corporation $1,700,000
4 Lilac Time, Warner Bros./First National Pictures $1,675,000
5 Four Sons, Fox Film Corporation $1,500,000
6 Noah's Ark, Warner Bros. $1,367,000
7 The Red Dance, Fox Film Corporation $1,300,000
8 The Terror, Warner Bros. $1,221,000
9 The Circus, United Artists $1,200,000
10 Lights of New York, Warner Bros. $1,160,000
Popular Movie Stars:
George Bancroft
Richard Barthelemess
Betty Compson
Gary Cooper
Joan Crawford
Marion Davies
Marie Dressler
Greta Garbo
Janet Gaynor
John Gilbert
Emil Jannings
William Powell
Fay Wray