Set in the economically depressed England of the present, Cal, the follow-up to the hit 2009 film, Shank, is a startlingly powerful drama of a young gay man searching for love, respect and acceptance.
Twenty-year-old Cal (Wayne Virgo) returns home to Britain from France after receiving news that his mother is ill.  He finds his home city of Bristol facing hard economic times brought on by the global economic crisis; with poverty and crime on the rise, rioting and looting has become a nightly occurrence.
Cal finds it difficult to fit in. Unable to get a job, he is confronted by his sick mother who remains homophobic and wants nothing to do with her gay son. While navigating his way across this new landscape, he meets Jason, a young student in need of help.
However, Cal's kindness brings him into contact with a drug dealing pimp. Soon, he is racing against time to make peace with his mother and get out of town as quickly as possible.
An impassioned, visceral drama, Cal is sexy and touching as it tackles issues faced by gay teens growing up in economically depressed environments.
.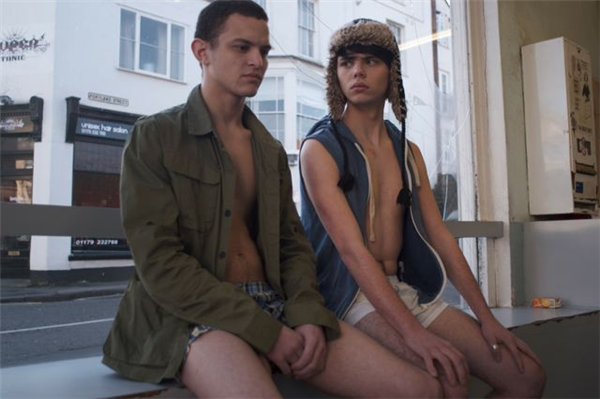 United Kingdom, 89 minutes, Color, English
Director: Christian Martin
Running time: 89 minutes
Screenwriters: Christian Martin
Cast: Wayne Virgo, Tom Payne, Emily Corcoran, Lucy Russel, Bernie Hodges, Daniel Brocklebank
Producers: Christian Martin
Cinematographer: Jack O'Dowd
About the Filmmaker:
Christian Martin has worked in the film industry for over 20 years. He produced the feature film Fever, starring Henry Thomas, Teri Hatcher, Bill Duke and David O'Hara, which premiered at the Cannes film festival in the Director's Fortnight. As a distributor, he has worked for Peccadillo Pictures, one of the largest and most successful independent distributors of specialized, arthouse and LGBT films in the UK. After leaving Peccadillo, he returned to film production setting up Bonne Idée Productions. Christian's second passion is politics and he is an elected city councilman in Bristol. Christian is best known to gay cinema fans as the writer/director behind the films Shank, Release, and Buffering.