Co-written by Paul Mazursky (who directed) and Larry Tucker (who produced), "Bob &Carol & Ted & Alice" is a zeitgeist comedy that reflected the sexual mores of the late 1960s but quickly became outdated when the zeitgeist changed.  Intermittently funny, this movie concerns mate-swapping among a quartet of best friends.
After Bob and Carol visit a retreat in California, they return home with new slogans and new psychobabble about the Love and the Me Generation.  In short order, Carol (Natalie Wood) has an affair with tennis pro, and husband Bob (Robert Culp), dutifully living up to his new standards, congratulates her.
Alice is the most conservative of the group, but when her husband Ted (Elliott Gould) admits to having had an affair, she suggests that the four of them have an orgy in their trip to Las Vegas.  Tensions and expectations build up, but when the foursome finally ends up in bed together, none knows what to do, what to say, or how to start having fun.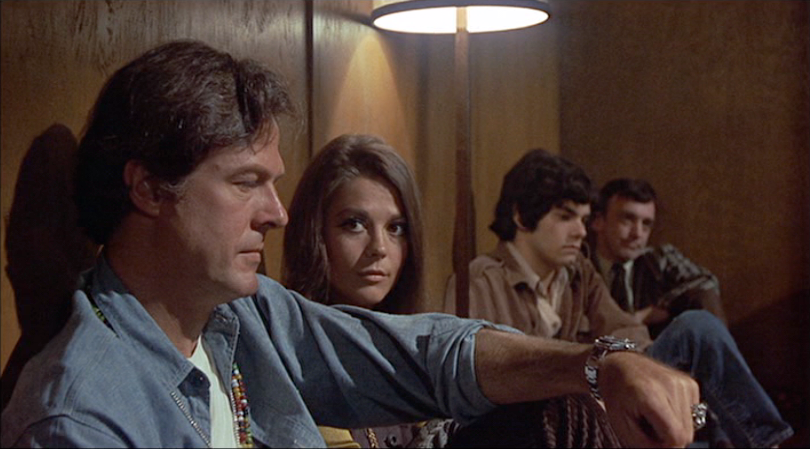 The dialogue is occasionally sharp, and in one of the film's funniest scenes, Ted is wildly turned on while Alice is of course in opposite state of mind.  Andre Phillipe, who is in almost every Mazursky film, plays Oscar here.
Detailed Plot
After a weekend at an Esalen-style retreat, Bob and Carol Sanders decide to embrace complete openness as their new lifestyle.  Bob has an affair with a young blonde on a film shoot in San Francisco, which he describes to Carol as a purely physical, not emotional experienced.  To Bob's surprise, Carol shows complete understanding, in fact, she even reveals the affair to their close friends Ted and Alice Henderson.
Alice is particularly disturbed by the revelation: She and Ted have a hard time coping with it while in bed. Later, Ted admits to Bob that he was tempted to have an affair once, and Bob says that he should have, rationalizing: "You've got the guilt anyway. Don't waste it."
While in San Francisco, Bob decides to skip another encounter with the blonde woman, and instead returns home earlier. When he arrives, he finds that Carol is having an affair with her tennis instructor. Initially upset, he realizes that, like his own affair, the encounter was just sexual. To prove his acceptance, he shares a drink and chat with the instructor.
When the two couples travel to Las Vegas, Bob and Carol reveal Carol's affair to Ted and Alice. Ted then admits to an affair on a recent business trip to Miami. Alice then demands that the next logical step would be a foursome. Ted is reluctant, claiming he loves Carol "like a sister," but eventually relents. After further discussion, they remove their clothes and climb into bed together. Swapping partners, Bob and Alice kiss fervently, as do Ted and Carol. However, after a few moments, all four simply stop.
They are next seen walking out of the casino hand-in-hand with their original partners. The movie ends in the casino's parking lot, where the four exchange looks with each other and with the strangers, just as they did in the tale's first scene at the retreat.
Bob & Carol & Ted & Alice, which became Mazursky's signature film, was both a critical and commercial success; it was one of 1969's top-grossing pictures.
The film had huge cinematic and cultural impact, leading to other movies dealing with monogamy, wife swapping, infidelity, and other forms of experimentation with interpersonal.
Cast
Natalie Wood as Carol
Robert Culp as Bob
Elliott Gould as Ted
Dyan Cannon as Alice
Horst Ebersberg as Horst
Lee Bergere as Emilio
Donald F. Muhich as Psychiatrist
Noble Lee Holderread Jr. as Sean Sanders
K.T. Stevens as Phyllis
Celeste Yarnall as Susan
Lynn Borden as Cutter
Greg Mullavey as Group Leader
About Mazursky
Mazursky established his reputation with this very first film, which opened the 1969 New York Film Festival.  A "sociological" director, Mazursky has captured the mores of the nouveau riche better than any filmmaker I can think of.  What was interesting about Mazursky was that he was a quintessential Jewish, New York director, but, unlike Woody Allen, he didn't hate Los Angeles and the West Coast.  He could understand what attracted people to the city–the weather, the lifestyle, the eccentricities and the fads that it encouraged.  And unlike Allen, Mazursky enjoyed L.A. for what it was–at least he didn't fight it as Allen, who never really gave the city a chance to exert its charm on him.
Mazursky's best films are light satires, imbued with the kind of universal humanism that was more common in European than American films.  Down and Out was in fact a loose remake of Jean Renoir's Boudu Saved from Drowning.  Mazursky went on to produce a series of elegant comedies, each providing a sharp, often witty, commentary on the mores of the new middle class.
If Mazursky's films don't hold up so well, it's because they are too grounded, too reflective of their immediate social contexts.  In 1978, An Unmarried Woman, which made Jill Clayburgh a star, was almost a mirror to the problems of young divorced women.
Every once in a while, Mazursky would make a sentimental movie, like Moscow on the Hudson, a bitter-sweet portrait of a Soviet defector (Robin Williams) and his adaptation to life in Manhattan. In The Pickle, possibly his worst endeavor, Mazursky returned to an earlier concern, a semi-autobiographical picture about a director's problems.  You may recall Mazursky's 1970 film, Alex in Wonderland, which was his response to Fellini's 8 1/2.
Oscar Nominations: 4
Story and Screenplay (Adapted): Paul Mazursky and Larry Tucker
Supporting Actor:  Elliott Gould
Supporting Actress: Dyan Cannon
Cinematography: Charles B. Lang
Oscar Awards: None
Oscar Context:
The writing (William Goldman) and cinematography (Conrad Hall) Oscars went to "Butch Cassidy and the Sundance Kid."  The Supporting Actor winner was Gig Young for "They Shoot Horses, Don't They?" in a contest that included Rupert Crosse in "The Reivers,"
Jack Nicholson in "Easy Rider," and Anthony Quayle in "Anne of the Thousand Days."
The Supporting Actress Oscar went to Goldie Hawn, who won at her first nomination for the comedy "Cactus Flower," in a race that included Catherine Burns in "Last Summer," Sylvia Miles in "Midnight Cowboy," and Susannah York in "The Shoot Horses, Don't They?"
Cast:
Carol (Natalie Wood)
Bob (Robert Culp)
Ted (Elliott Gould)
Alice (Dyan Cannon)
Horst (Horst Ebersberg)
Emelio (Lee Bergere)
Psychiatrist (Donald Muhich)
Sean (Noble Lee Holderread, Jr.
Phyllis (K.T. Stevens)
Susan (Celeste Yarnall)
Credits:
Produced by Larry Tucker
Directed by Paul Mazursky
Camera: Charles Lang
Music: Quincy Jones
Choreography: Miriam Nelson
Costumes: Moss Mabry
Running Time: 104 Minutes