Written and directed by Mia Hansen-Løve, Bergman Island uses the titular filmmaker's legacy as the launchpad for a meditative, dreamlike rumination on romance, creativity, cinema and Bergman.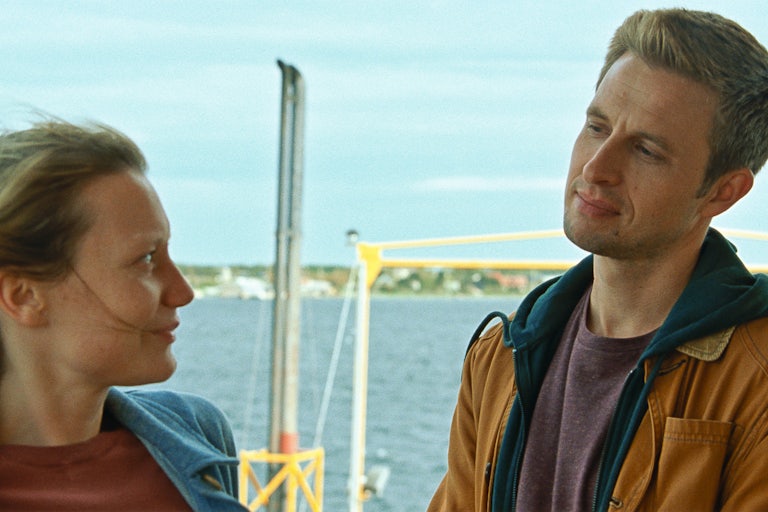 Mia Wasikowska as Amy and Anders Danielsen Lie as Josef
The film stars Vicky Krieps, Tim Roth, Mia Wasikowska and Anders Danielsen Lie.
A filmmaking couple, Chris and Tony Sanders, travel to Fårö, the island where Ingmar Bergman lived and worked, to complete a residency there.
An admirer of Bergman, Tony is inspired by the island, whereas Chris struggles with a dislike for Bergman for his personal failings, specifically as a father, despite loving his movies.
During an interview after a screening of Tony's film, Chris sneaks out. At the church where Bergman is buried she meets Hampus, a Swedish film student, who offers her to explore the island, leaving Tony to take the Bergman Safari alone.
Tony has found his time on the island productive, but she struggles with her work, for which she has only a rough outline She decides to share her work with Tony, hoping he can help her.
In the screenplay Chris is writing, Amy (Mia Wasikowska), an American filmmaker, is travelling to Fårö for the wedding of a friend. Amy and another guest, Joseph (Anders Danielsen Lie), had a love affair as teens and then rekindled their relationship as adults before breaking up once more.
The two discuss their love with each other, despite being in relationships with other people. Amy is crushed when she realizes that Joseph has been repeatedly unfaithful to his girlfriend.
The following morning Joseph expresses regret for having sex, while Amy is unrepentant. Amy tries to continue their affair during the time left, but Joseph repeatedly brushes her off. Amy later learns he left the island without telling her.
Amy returns to her home and Chris confesses this is where she is stuck on her screenplay offering the morbid idea that Amy could possibly attempt suicide.
Tony leaves Fårö to collect June and bring her to the island, while Chris heads to her study to work on her screenplay.
Chris travels to the Bergman Estate and runs into Hampus on his way out. She is woken up by Anders Danielsen Lie who reveals that despite wrapping up his scenes, he has stayed in order to see Bergman's house. He expresses disappointment Chris did not write a scene in which he could appear in Bergman's house.
Bergman Island world premiered at the 2021 Cannes Film Fest in July.  IFC Films acquired U.S. distribution rights to the film, while MUBI acquired the rights for UK and Ireland distribution.
Cast
Mia Wasikowska as Amy/Herself
Vicky Krieps as Chris Sanders
Tim Roth as Tony Sanders
Anders Danielsen Lie as Joseph/Himself
Hampus Nordenson as Hampus
Films Directed by Mia Hansen-Løve
All Is Forgiven (2007)
Father of My Children (2009)
Goodbye First Love (2011)
Eden (2014)
Things to Come (2016)
Maya (2018)
Bergman Island (2021)