One of the most significant Pre-Code Hollywood movies, Baby Face is a sexually-charged melodrama, and an atypical woman's picture.  It was designed as a star vehicle for Barbara Stanwyck, who plays an attractive young woman who uses sex to advance her social status. 
Our Grade: B+ (**** out of *****)
Directed by Alfred E. Green, the film is based on a story by Darryl F. Zanuck (using the pseudonym Mark Canfield).  Its making was Warner's response to MGM's Red-Headed Woman, in 1932, another Pre-Code Hollywood movie, in which Jean Harlow played a similar role.  Production head Zanuck (later head of Fox), wrote the screen treatment and sold it to Warner for one dollar.
John Wayne, then age 25, plays a supporting role as one of Lily's lovers, and George Brent is cast as as her romantic interest.  Both actors would later become major Hollywood players.
Marketed with the salacious tagline "She had it and made it pay," the film contains an open discussion of sex, which made it one of the most notorious films of the Pre-Code Hollywood era.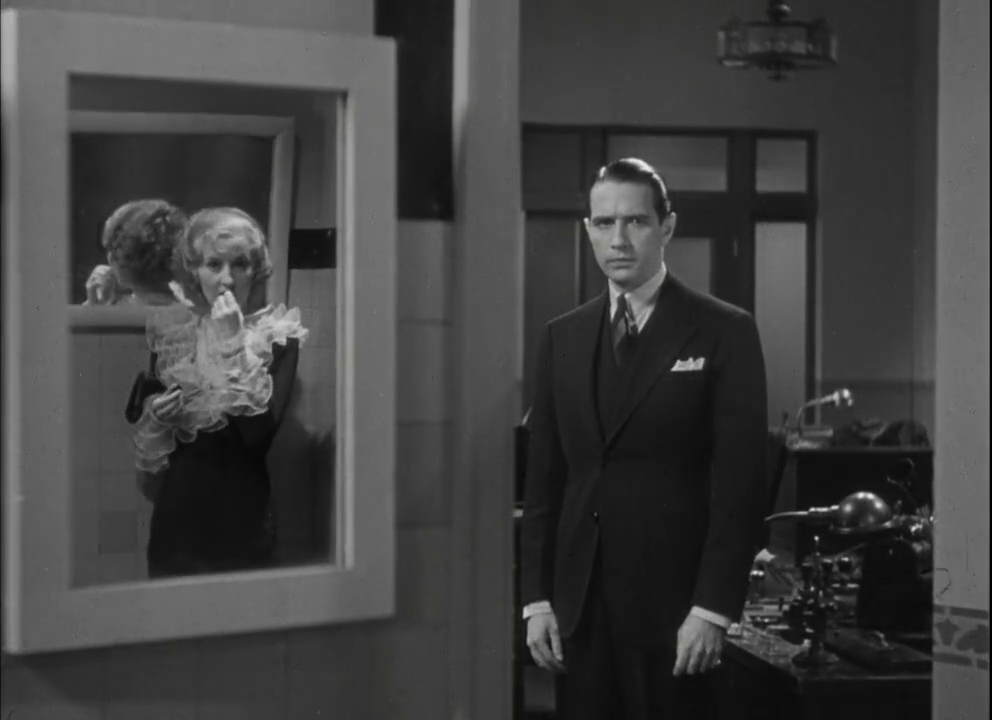 Detailed Synopsis
Lily Powers works for her father Nick in a speakeasy in western Pennsylvania during Prohibition. Since the age of 14, her mean father forced her to sleep with many of his customers. The only man she trusts is Cragg, a cobbler who admires the philosopher Nietzsche and advises her to aspire to bigger, greater, better things.
When Lily's father is killed(his still explodes), Cragg tells Lily to move to a big city and use her power over men.  She and her African-American co-worker and friend Chico take a freight train to New York City, but are discovered by a railroad worker who threatens to throw them into jail.  "Wait, can't we talk this over?" she says, implying sexual overture.
In New York, Lily goes into the Gotham Trust building, where she seduces the personnel worker to get her a job. Her subsequent rise through the building symbolizes her progress in sleeping her way to the top.  (A publicity still of the movie shows Stanwyck posing next to a stepladder).
In the filing department, Lily begins an affair with Jimmy McCoy Jr. (John Wayne), who recommends her for promotion to his boss, Brody. She seduces Brody and is transferred to the mortgage department. Brody and Lily are caught by a rising young executive, Ned Stevens. Brody is fired, but Lily claims Brody forced himself. Ned believes her, and gives her a position in his accounting department.
Note:
If you want to know more about the career and life of John Wayne (see photo above with Barbara Stanwyck), please read my book:
Ned is engaged to Ann Carter, daughter of First Vice President J. P. Carter, but Lily seduces him.  Lily then arranges to have Ann see her embracing Ned. Ann runs crying to her father, who tells him to fire Lily. Ned refuses, so J.P. goes to see Lily himself.  Claiming she had no idea Ned was engaged, she seduces J.P., and he installs her in a lavish apartment, with Chico as her maid.  Pining for Lily, Ned tracks her down on Christmas Day, but she spurns him. Later, he asks her to marry him, and when he finds J.P.  in her flat, he kills J.P. and then himself.
Courtland Trenholm, the grandson of Gotham Trust's founder, is elected bank president to handle the scandal. The board of directors, learning that Lily has agreed to sell her diary to the press, summons her to a meeting. She tells them she is a victim of circumstances who merely wants to make a decent living. The board offers her $15,000 to withhold her diary, but Courtland offers her a position at the bank's Paris office.
Lily reluctantly accepts.  When Courtland travels to Paris on business, he's surprised to find Lily promoted to head of the travel bureau. He soon falls under her spell and marries her. Unlike her previous conquests, Courtland sees she is scheming and self-centered.  During their honeymoon, he is called back to New York. The bank has failed due to mismanagement, which the board falsely pins on Courtland. He is indicted, and tells Lily he must raise a lot of money to finance his defense. He asks her to cash in the bonds and stocks, but she refuses and buys a tickets back to Paris.
While waiting for the ship to leave, she changes her mind and rushes back to their apartment. When she arrives, she discovers Courtland has shot himself. On the way to the hospital, the attendant assures her that he has a good chance of survival. Lily drops her briefcase, spilling money and jewels on the floor. When the attendant sees it, she tearfully tells him she does not care. Courtland sees Lily and smiles at her.
At a meeting of the bank's board of directors, a board member announces that the Trenholms have moved to Pittsburgh, where Courtland works at a steel mill.
Censorship of Sexual and Philosophical Contents
The N.Y. State Censorship Board rejected the original version in April 1933, and subsequently, the film was softened by cutting out some material (Lily's studying Nietzsche and sexually suggestive shots). The producers inserted new footage and changed the ending to suggest that Lily has changed, and to live a modest lifestyle. In June 1933, the Censorship Board approved the revised version.
The uncensored version remained lost until 2004, when it resurfaced at a film vault in Ohio. The restored version premiered at the London Film Fest in November 2004.
In 2005 the movie was deemed "culturally, historically, or aesthetically significant" and selected for preservation by the U.S. Library of Congress National Film Registry
Lily and Philosopher Nietzsche
Lily seeks the advice of the only man she trusts, a cobbler (Alphonse Ethier), who reads passages from books by the German philosopher Nietzsche, and Lily is seen throughout the tale reading from Nietzsche, specifically his concept of the will to power, which he believed was the main driving force–achievement, ambition, and the striving to reach the highest possible position in life.
The first version of the speech didn't pass New York State Censorship was as follows:  A woman, young, beautiful like you, can get anything she wants in the world. Because you have power over men. But you must use men, not let them use you. You must be a master, not a slave. Look here — Nietzsche says, "All life, no matter how we idealize it, is nothing more nor less than exploitation." That's what I'm telling you. Exploit yourself. Go to some big city where you will find opportunities! Use men! Be strong! Defiant! Use men to get the things you want!"
Aside from its explicit discussion of sex and seduction, the film is notable for the friendship Lily has with the African-American Chico.
A version of the 1926 hit song, "Baby Face," is played over the opening credits and sporadically throughout the film.
Cast
Barbara Stanwyck as Lily Powers
George Brent as Courtland Trenholm
Theresa Harris as Chico, Lily's maid-friend
Donald Cook as Ned Steven
Alphonse Ethier as Adolf Cragg, a cobble
Henry Kolker as J.P. Carte
Margaret Lindsay as Ann Carte
Arthur Hohl as Ed Sippl
John Wayne as Jimmy McCoy Jr.
Robert Barrat as Nick Powers, Lily's father
Douglass Dumbrille as Brody
Credits:
Directed by Alfred E. Green
Produced by William LeBaron, Raymond Griffith
Screenplay by Gene Markey, Kathryn Scola, story by "Mark Canfield" (Darryl F. Zanuck)
Cinematography James Van Trees
Edited by Howard Bretherton
Production company Warner Bros.
Distributed by Warner Bros.
Release date: July 1, 1933 (US)
Running time 71 minutes; 76 minutes (restored version)
Budget $187,000
Box office $452,000