The portrayal of suburbia in the 1970s, in films like Shampoo, Jaws, and The Stepford Wives (all in 1975) approximates that seen of small-town films, with the shopping mall often substituting for the town's main square.
Our grade: B (*** out of *****)
Though most suburban films are set on the West Coast (and fewer on the East Coast), their portraiture is often more similar in subject and themes than in their particular characters or visual visual look.
"'Shampoo' is sort of 'Our Town,'" said co-screenwriter Robert Towne, "It's Grover's Corners 1968, only it's Beverly Hills."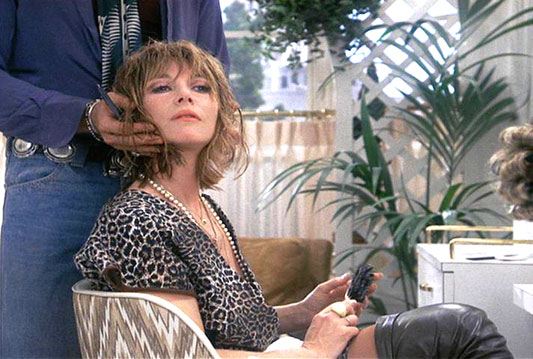 Beverly Hills is portrayed as a self-contained community. Isolated from its surroundings geographically and culturally, it boasts a distinctive way of life. Yet this ambitious film, if also vague and occasionally pretentious, is anything but a reworking of old conventions. For one thing, no small-town film in the past had a glamorous hairdresser as its protagonist anti-hero.
Note:
If you want to know more about the portraiture of small town and suburbia in Hollywood films, Please read my book:
Warren Beatty (producer, co-writer, and star) takes a profession that's stereotypically homosexual and turns his character into a womanizer, a modern-day Casanova. Beatty's George is a charming hairdresser who works in a popular parlor, but he also makes house calls to rich clients who get hair treatment as well as other benefits.
There are three "women-clients" in his life, all lusting after him sexually: Felicia (Lee Grant) is a middle-aged married woman; Jill (Goldie Hawn), his girlfriend who wants to marry him; and Jackie (Julie Christie), his old girl, a confused woman who is the mistress of Lester (Jack Warden), a rich businessman and Felicia's husband. Bringing excitement to their lives, George claims to understand their "unique" problems like no other man.
There's a fourth girl, Lorna (Carrie Fisher), Felicia's alienated and mother-hating daughter. In the film's most outrageous scene, George is seduced by Lorna. Their conversation begins with a series of disagreeable questions: "Are you gay Are you making it with my mother" Then, showing no inhibitions, she asks, "Do you want to fuck" Few films have dared to show a man sexually involved with a mother and her daughter (The Graduate was an exception). However, what' interesting is that when Felicia finds out that George went to bed with Lorna, instead of being furious, she becomes even more passionate.
George is basically a small-town hero who, instead of wanting to own his land, wants to own his beauty salon. Dressed in tight blue jeans and black leather jacket, he rides his motorcycle from assignation to assignation. He carries his hair dryer in his hand, in a (phallic) manner reminiscent of the way Clyde (also played by Beatty) and other Westerners hold their guns; the hair dryer is George's gun, except it blows white steam.
The characters are incestuously interrelated in tangled networks of relationships. Lester, a modern version of the shyster lawyer, is a dishonest businessman who drives around in a Rolls Royce, constantly tuning to business reports from Wall Street. Though married, he has a mistress, Jackie. Jackie was George's girl and she is a close friend of Jill, George's current fiance.
There is no distinction between behavior in the workplace and in privacy. "I never know when you're working and when you aren't working," says Jill. George is working (screwing) all the time. The film abounds with double entendres, as when Lester wonders: "How did you get into that line of work Felicia says you're very interested in your shop."
Nonetheless, George is up for a comeuppance. He's a nave and foolish Don Juan bound to fail. At the end, all three women desert him. Realizing that it's Jackie he really loves, George proposes to her but it's too late. She abandons him on the top of a hill overlooking Beverly Hills. In the film's last shot, George is isolated, standing on a hill with no place to go and no goal to pursue.
Set on Election Day, November 4, 1968, Shampoo draws analogies between private and political life at this juncture of time and place. Beatty said that the movie was meant to be "about the intermingling of political and sexual hypocrisy, contrasting sexual with political mores." Hence, most sexual encounters occur in public spaces, with their participants are either being observed and/or caught by others. By contrast, the political process (important decision making) is carried out in privacy behind closed doors.
The film's central sequence is a political banquet, with the television commenting on Nixon's sweeping victory. However, nobody pays attention, and Jackie performs fellatio on George under the table. The film provides severe condemnation of the materialistic and superficial way of life in Los Angeles, the last frontier, where it's all surface and name-dropping but no substance.
The protagonists' professions are related to the glamour industries: George is a hairdresser and Jill a model. The preoccupation with hairstyles signifies ultra concern with physical appearances. The overindulgence in sex becomes a commercial commodity; none of the characters seems to enjoy it. It's a calculating, cold sex, with no emotions and no pretense of romance or courtship. In fact, few sexual encounters are climaxed since the participants are caught with their pants and dresses down. During the party, when George and Jackie go to an empty house to make love, they are caught by Lester and Jill. George runs after Jill to explain, and by the time he's back, Jackie is gone.
Eager to please, George never for a moment gives an account to himself of who he really is, or what his values are. The film suggests that Americans have become slaves to their private and sexual lives at the expense of getting involved emotionally or politically. No character talks about or understands politics. Shampoo is about whoring in sex and in politics, and the price of doing it.
Made in 1975, less than a year after Nixon's resignation (August 1974) over the Watergate scandal, the film suggests parallels between Nixon's hypocrisy and cheating and similar devices among the average Americans. The protagonists' lack of concern with issues larger than themselves accounts for the fact that Nixon was elected in the first place.
The TV set is on most of the time, but no one has time to really watch, reducing the small screen to a constant blur of images and sounds.
The movie's light touch and seemingly casual strategy make the experience enjoyable while watching it, but afterwards you realize how substantial it was.
Released on February 12, which is unusual for a major Oscar contender, Shampoo was a huge box office hit, occupying the 5th position as that year's top grosser.
Intertextuality (Inspired by):
Jean Renoir's Rules of the Game, 1939
Bergman, Smiles of a Summer Night
Cast
Warren Beatty (George)
Julie Christie (Jackie)
Goldie Hawn (Jill)
Lee Grant (Felicia)
Jack Warden (Lester)
Tony Bill (Johnny)
Carrie Fisher (Lorna)
Jay Robinson (Norman)
George Furth (Bank Officer)
Brad Dexter (Senator)
William Castle (Producer)
Credits:
A Columbia Picture.
Producer: Warren Beatty.
Director: Hal Ashby.
Screenplay: Warren Beatty, Robert Towne.
Photographer: Laszlo Kovacs.
Editor: Robert C. Jones.
Music: Paul Simon.
Production Designer: Richard Sylbert.
Art Director: Stuart Campbell.
Set Decorator: George Gaines.
Sound: Tommy Overton.
Assistant Director: Art Levinson.
Color by Technicolor.
The movie opened at the Coronet Theatre, New York City, February 11, 1975.
Running time: 112 minutes.
Oscar Nominations: 4 
Supporting Actress: Lee Grant
Supporting Actor: Jack Warden
Screenplay (Original): Robert Towne and Warren Beatty
Art Direction-Set Decoration: Richard Sylbert and W. Stewart Campbell; George Gaines
Oscar Awards: 1
Oscar Context:
The winner of the Best Supporting Actor Oscar was George Burns for "The Sunshine Boys."
The Screenplay Oscar went to Frank Pierson for "Dog Day Afternoon, and the Art Direction Oscar to Stanley Kubrick's masterpiece, "Barry Lyndon."