The extraordinary coherence of John Wayne's screen image, over such a prolonged period of time, is largely attributable to the control that he exercised over his career.
Wayne had deployed several means to maintain such continuity and control. The most important strategy was to become the producer of his own movies, which allowed for tighter supervision over every aspect of the filmmaking process.
Grade: B (***1/2* out of *****)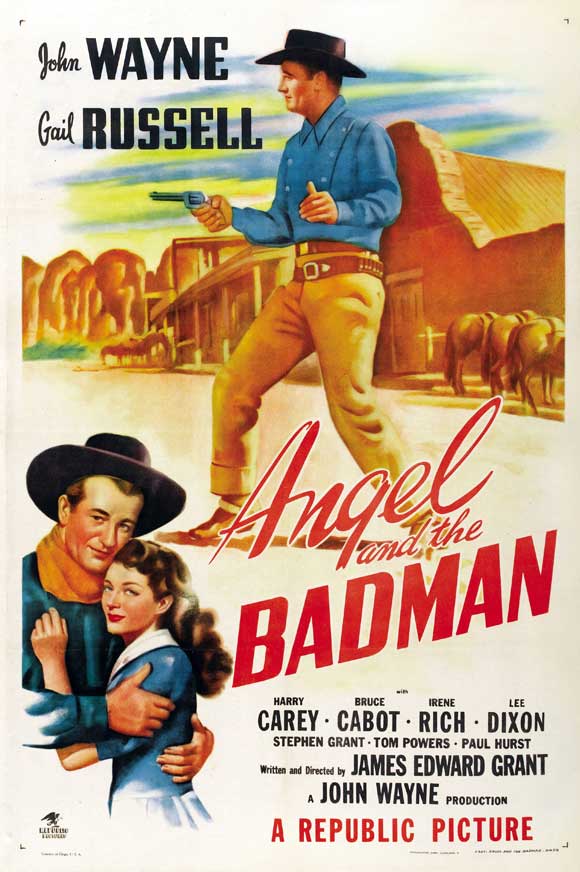 The first film in which Wayne served as both star and producer was Angel and the Badman in 1947, a black-and-white Western that's written and directed by James Edward Grant.  As producer, Wayne's meticulous attention to detail is already noticeable: The technical values are high, particularly Archie Stout's distinguished cinematography.
Note:
If you want to know more about John Wayne's career and life, please read my book:
Wayne plays Quirt Evans, a tough, feared man.  Early on, we hear about his adventures as Wyatt Earp's deputy, and how he had fought against the Clantons.  The very mentioning of his name makes a rancher, who has blocked the water supply of his neighbor, change his mind.  Hence, Marshal McLintock (Harry Carey Sr.) can't wait to get Evans.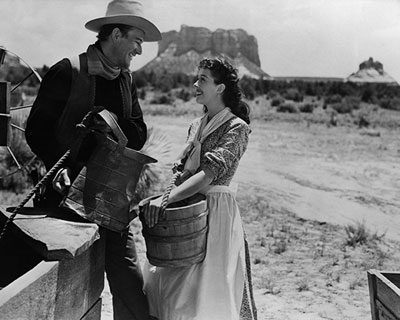 In an impressive entrance, we see Wayne's six guns blazing away, and then his flight on a horseback from a band of pursuers in a well-shot chase. Evans shakes them off but his horse stumbles, and he is thrown to the ground outside the home of a Quaker family, named Worth.
The Worths bring him in, and their daughter Penny (Gail Russell) takes care of his wounds. Penny watches him as he drapes his arm, still holding a six-gun. And talks about other women in his sleep. A romance ensues, with Penny determined to heal and regenerate the wounded gunslinger with his care and love.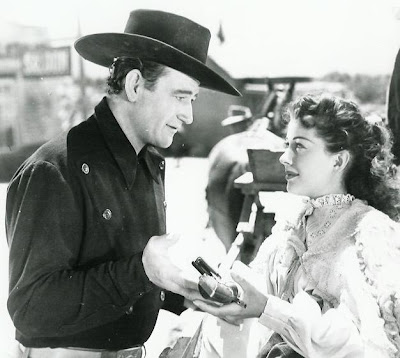 Reformation proves more complex than she had anticipated, when Evans declares his intent to avenge the death of his foster father by killing Laredo Stevens (Bruce Cabot).  When Laredo and his bunch confront Evans, he bestrides a chair, half in shadow, his six-gun pointed at them.
Screenwriter Grant gives Wayne lines that are expected of his heroes to say.  Hence, challenging Laredo, Evans says, "you nervous, boy" And later on, talking to Penny, Evans says things like, "I've got places to go" (the equivalent of the Western motto, "a man's got to do what a man's got to do").
Helped by his buddy Randy McCall (Lee Dixon), Evans goes on to steal a herd from Laredo, who had himself rustled it without firing a single shot. Climactic scene occurs when Evans and Penny are kidnapped by Laredo while relaxing in a picnic. Having promised to leave his gun behind, Evans is forced to flee in the wagon they are using.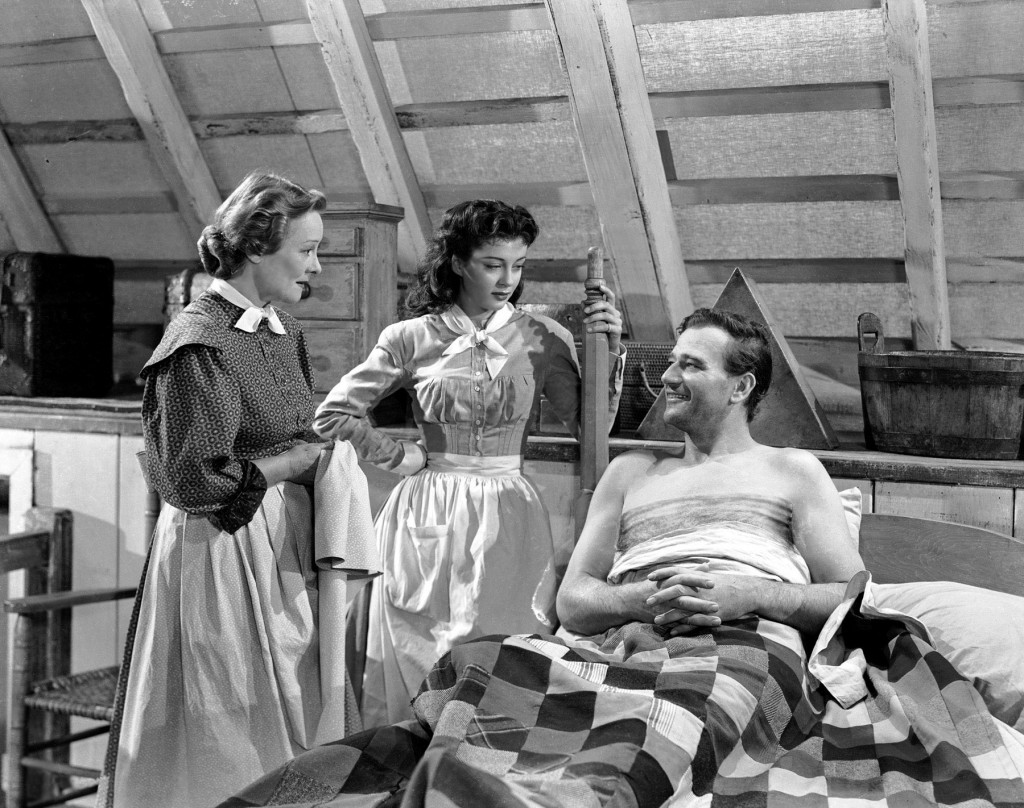 During the trip in the river, Penny gets sick after being rescued, and now it's Evans turn to take care of her. A shootout in the manner of "Stagecoach" is about to happen outside the saloon, with Evans being unarmed, when Marshal McLintock interferes by shooting Laredo, an unusual act in a Wayne movie that enables the film to end on a peaceful note, with Evans hanging up his gun for good.
The action is enlivened with staple scenes like a well-orchestrated saloon brawl, which is more about old-fashioned fun than real knocks and scares. The action scenes are choreographed by the expert Yakima Canutt, who worked on many subsequent John Wayne-John Ford Westerns.
The critic James Agee represented many others when he wrote: "John Wayne's first production mixes up Quakers with gun-bearing cowboys.  The result is unpretentious, sweet-tempered, and quite likeable film."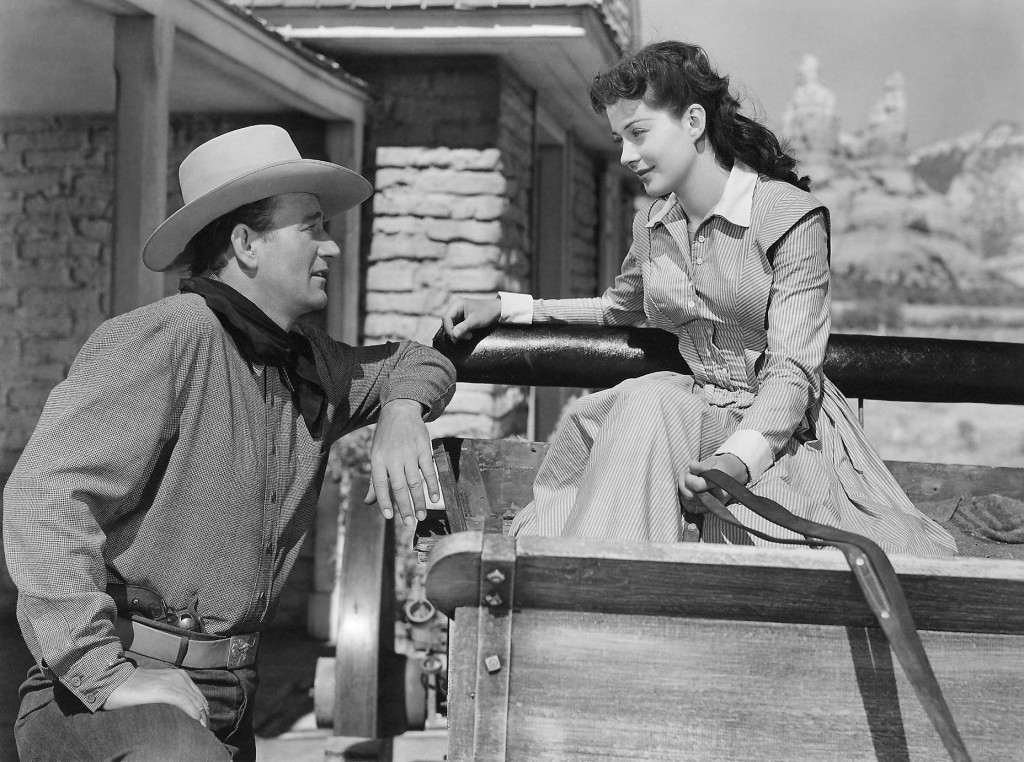 Edward James Grant Effect
Edward James Grant, a popular pulp novelist and writer of action pictures, was Wayne's favorite and most influential screenwriter, contributing nine scenarios, beginning with "Angel and the Badman," which he also directed. Grant's important scripts, in terms of image-making, were two war movies, "The Sands of Iwo Jima" and The Flying Leathernecks," two political vehicles, Big Jim McLain" and The Alamo, and two Westerns, "Hondo" and "McLintock!" Wayne relied heavily on Grant's work and trusted him implicitly, up until the 1960s, when the disastrous "Circus World," after which he was fired.
"We evolved a system," said Grant in describing his contribution to the Wayne's screen persona, "of making him a sort of bystander in situations, instead of actively taking part in them." Wayne typically played a man "who was not looking for trouble, but he was relentless in tackling it when it affronted him." Grant thought it was an interesting device, because of the contrast. As he explained: "For an actor so consistently associated with action pictures and combats, Wayne did stand out as a passive figure." True, Wayne thought of himself as a reactor, "I can react to a situation that has already been built up when I walk on. I do not like to have to explain that situation myself."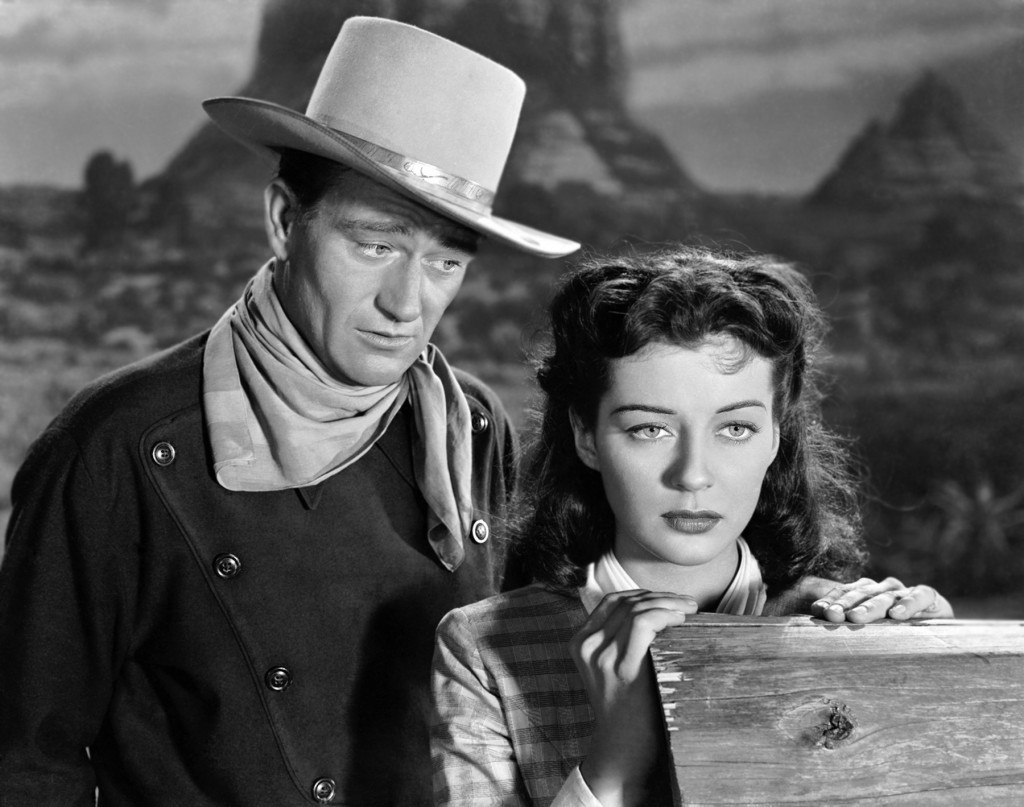 Of his eighteen-year-collaboration with Wayne, scribe Grant later noted: "Because he's built like an ox, lots of guys think Duke is a big, dumb lummox. He isn't. The Duke could pick out the holes in them (scripts) faster than I can." And contrary to his public image as "the big, calm rock of Gibraltar," Grant described the star as "eternally concerned with what he is doing in pictures and how he is going to come out."
Actor Alert
McLintock is the name of John Wayne's hero in a quintessential 1963 Western of the same title, which expressed Wayne's personal political credo.
Credits:
Directed, written by James Edward Grant
Produced by John Wayne
Music by Richard Hageman
Cinematography Archie J. Stout
Edited by Harry Keller
Production company John Wayne Productions
Distributed by Republic Pictures
Release date: February 15, 1947
Running time 100 minutes
Cast:
John Wayne as Quirt Evans
Gail Russell as Penelope Worth
Harry Carey as Marshal Wistful McClintock
Bruce Cabot as Laredo Stevens
Irene Rich as Mrs. Worth
Lee Dixon as Randy McCall
Stephen Grant as Johnny Worth
Tom Powers as Dr. Mangram
Paul Hurst as Frederick Carson
Olin Howland as Bradley
John Halloran as Thomas Worth
Joan Barton as Lila Neal
Craig Woods as Ward Withers
Marshall Reed as Nelson
Paul Fix as Mouse Marr (uncredited)