Loosely inspired by the real-life Floyd Collins cave-in disaster of the 1920s, Billy Wilder's Ace in the Hole (aka "The Big Carnival") offers a prophetic, uncompromising portrait of human nature at its worst (some say misanthropic).
The film was far ahead for its times in its depiction of a media circus, greedy professionals, self-absorbed politicians, and the public's tireless appetite for live tragedy.
Our Grade: A- (**** out of *****)
In 1951, the film was a flop, but with time, however, it stands as one of the great American movies of the 1950s. The movie was attacked due to its negative portrayal of American journalists as fame-seeking, doing everything and anything to be on the spotlight.
After being fired from a number of big city newspapers, alcoholic reporter Chuck Tatum (Kirk Douglas in top form) takes a job working for a paper in Albuquerque, New Mexico.
On the way to cover a rattlesnake hunt, Tatum encounters a woman Lorraine (Jan Sterling) who tells him tat her husband, Leo Minosa (Richard Benedict), got trapped in a mine cave-in while searching for some Indian treasure.
Smelling a big story that will take him back to New York, Tatum goes into the cave and befriends Leo. He then makes a deal with the corrupt local sheriff, Gus Kretzer (Ray Teal) to boost his upcoming re-election campaign in exchange for exclusive rights to the story.
Tatum and the sheriff coerce the contractor into prolonging the rescue operation into a whole week, rather than 16 hours, by drilling down from the top of the mountain, instead of shoring up the walls and going in through the front.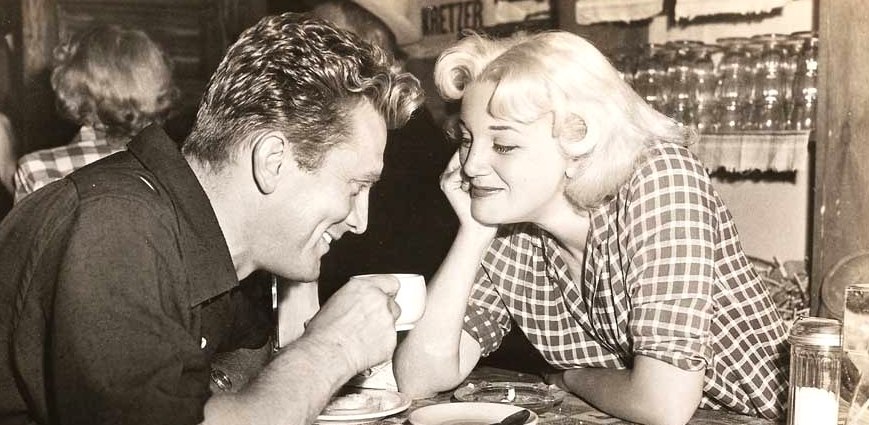 After a few days, a carnival atmosphere presides as TV, newsreel, and radio crews arrive, while thousands of tourists set up camp and trucks bring in amusement park rides. The rescue attempt is hypocritical and exploitative note. A topical tune, entitled Were coming, Leo, is sung by the spectators in the crowd scenes.
In the end, after suffering, Leo dies of pneumonia; the cold temperature and lack of vision are used physically as well as figuratively, to indicate the neglect of Leo's fellow human beings. Most of the characters are sensation-seekers and profiteers, in one way or another.
Though the movie is cynical, grim, and even pitiless, underneath the surface, it reveals Wilder to be more of satiric moralist and a disillusioned romantic who knows that the world is an imperfect place and that, given the choice, everyone has the potential to be corrupt.
The ensemble is uniformly good. Kirk Douglas is all bluster and calculation, with his manic laugh, egotistical, ferocity, and slick yet cheap note of personality
Jan Sterling also shines as Lorraine, the trapped man's wife, taking full advantage of the brassy tone of her voice. When urged to pose praying for her husband for a publicity shots, Lorraine snarled, "I don't go to church.  Kneeling bags my nylons." But there's also fear and emptiness beneath her tough broad faade.
That the film was box-office flop is not surprising since American viewers could not have been flattered by its depiction of them as gullible sensation-seekers who morbidly gather around a disaster for some "fun."
Even today, the scenes of Tatum talking with the entombed Leo as dirt pours down on his face are harrowing scenes to watch, primarily because Wilder broke his cardinal rule of sugar-coating messages with comic elements as a safety valve.
The film's look is appropriately bleak, set in a remote locale, with only a roadside caf and souvenir shop in sight. Vividly shot on location by Charles B. Lang, the film also benefits from the art direction of Hal Pereira and Earl Hedrick, and costume by Edith Head.
Memorable Lines
Larraine to Tatum: "I met a lot of hard-boiled eggs in my life, but you–you're twenty minutes!"
Oscar Alert
Oscar nominations: 1
Story and Screenplay: Lesser Samuels, and Walter Newman.
Oscar Awards: None
Oscar Context:
The winner of Story abd Screenplay was Alan Jay Lerner for the musical "An American in Paris," which also won Best Picture.
Festival and Awards Alert
Shown at the Venice International Film Festival, "Ace in the Hole" was singled out as Outstanding Film.
Made on a budget of 1.8 million, the film received favorable reviews, but it was only moderately successful at the box-office, earning 1.3 million in rentals.
Credits:
Paramount Pictures
Produced and directed by Billy Wilder
Screenplay by Walter Newman, Lesser Samuels, Billy Wilder
Story by Victor Desny
Music by Hugo Friedhofer
Cinematography: Charles Lang
Edited by Arthur P. Schmidt
Release date: June 14, 1951
Running time: 111 minutes