Sony will release Spider-Man: Homecoming on July 7, 2017
Interview with Tom Holland (best known from playing Naomi Watts son in The Impossible)
Anxiety about Playing Spider Man
Tom Holland: I was not worried, because from reading the script and working on "Civil War" it was very obvious that we were taking the character down a very different route, so it was very different than anything we had seen before.  The fact that there are two Spiderman's previous to me helped me massively, because I was able to watch their movies and decide what I would like to keep and things I wouldn't necessarily like to do again.  So I had five movies to just basically sort of cheat from.  I was very lucky in that respect.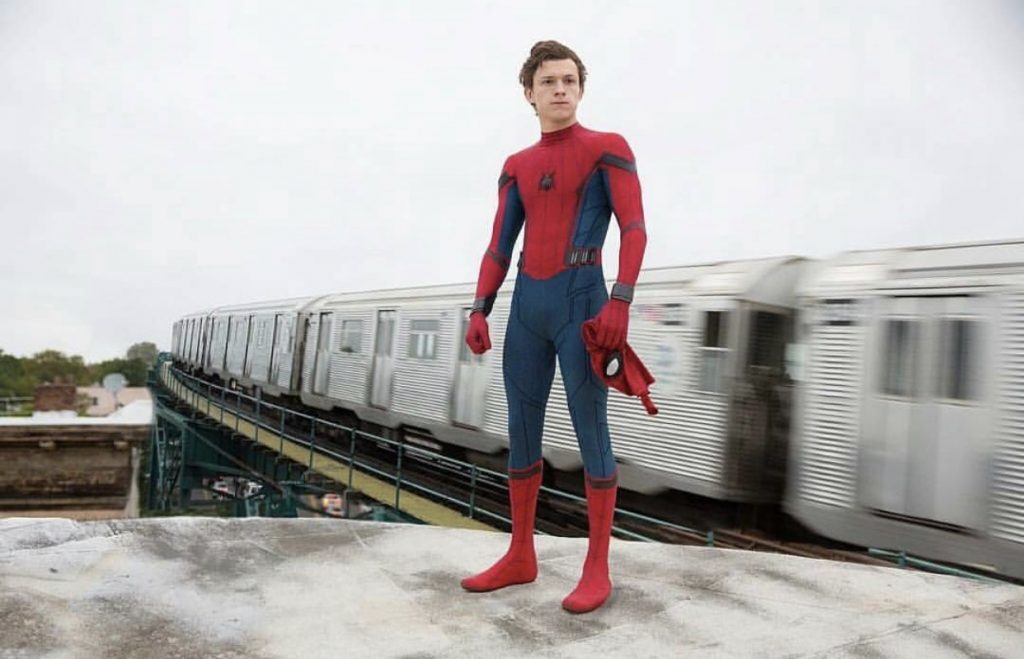 Nerd as a Kid? Into Comic Books and Superheroes
TH: I didn't love comics but I was definitely a huge fan of superheroes.  And I really connected with Spiderman especially and I just recently posted a picture on my Instagram of me dressed up as Superman.  Throughout my whole childhood, I was always dressing up as superheroes.
Connection to Spider Man
TH: Spiderman was always my favorite and I connected with him the most because he goes through everything that a kid goes through in high school, so whether I am struggling with doing my chemistry homework or asking a girl on a date, Spiderman is also going through the same sort of problems.  It's just encouraging to know that even a superhero goes through those problems, so you are not on your own.
Words of Wisdom from Other Marvel Actors
Chris Hemsworth's word of advice was keep your family close and your friends close and keep everyone around you and remain grounded.  It's very easy to get caught up in this sort of high life of this industry.  And I think the most valuable piece of advice that I learned from my fellow Avengers is from Robert.  He was on the set of Spiderman and I was watching him work, and he is someone at the top of his game, at his peak.  He is 10 minutes early every day, he shakes everyone's hand before working, he's polite and he's kind and he's hard working and above all else, he's respectful.  For me, it was an eye-opener that it doesn't matter how successful you get, you should always remain the same and respect others.
Being Dancer and Making Physical Movie
TH: I trained everyday for the movie, in boxing, and just regular sort of gym workout sort of stuff.  The biggest challenge was actually the flexibility and even though I was a dancer when I was a kid, that was a long time ago, and I am so un-flexible that I can't even touch my toes now.  So I had to work on really getting more flexible so I could land in the iconic Spidey poses.  The first couple weeks, it was pretty tough.  But we managed to get there in the end and figure out all the poses that were best for the movie.
The Wires?
TH: I actually loved the wires.  They had hard time getting me down from the wires.  For me, it was like going to a theme park every day, but just lucky enough that I was paid to be there.
Playing Billy Elliott
I did get the lead in "Billy Elliott.'  I originally played Michael because I was so young. I was the youngest kid they put on stage as Bill,  and they put me on stage as Michael to give me some stage experience.  So I originally trained as Billy's best friend, and then eventually after months of training, I did go on as Billy.  I did 176 shows as "Billy Elliot."
Stepping Stone for Rest of Career? 
TH: It definitely was a huge help.  I have learned so much from being on stage and from working with adults and being mature in a working environment.  The biggest thing for me was working with Naomi Watts.  That was the first time that I really realized that acting was what I wanted to do and the career I had chosen.
Being Cast in Visible Role 
TH: It was probably the most stressful thing I have ever been through.  Because they started off, there was a big press release that they were recasting Spiderman and I rang my agent saying just get me an audition, just at least get me in front of them and show them who I am.  Three weeks later, they rang me up and said look, they have requested for you to do an audition.  You have to do a self-take where you sit in front of a camera, do your own audition and send it off, and I did five of those.  I did two in Canada, with Joel Kinnaman, and then I did two in Ireland with Jon Berenthal, and then another one in Belgium with Jon Berenthal.  I then flew to LA for an in-room audition with the casting director Sarah Finn, and then after that, I went to Atlanta to do a screen test with Robert Downey Jr, and then after that again, I went back to Atlanta to do a test with Chris Evans.  And after every single audition, for some reason, I was told that I was going to find out the final news in the next couple of days.  And then months later, they were like oh, we need you to audition again. We need you come in and screen test, we need you to come and try this costume on and blah, blah, blah.  It was a really long process, which had been promised to be a very short one.  I remember after my final audition, I was supposed to find out that day if I had gotten the part, and I ended up finding out six weeks later. I had come to the conclusion that I hadn't gotten the part.  And I was just scrolling through Instagram one day, I played golf with my dad and lost, which is always a bad day for me, and Marvel just posted it on Instagram, and it was like, go to our website to find out who the new Spiderman is.  And obviously I did.
Final Audition?
TH: The final audition was a movement test and it was funny. I had been sending videos to Marvel constantly of me doing back flips and stuff. I got to the movement test and I met the choreographer and he taught me this fight routine, which was very simple and very basic, and obviously if there is a time to show off, now is the time.  I was like look dude, I can fight, I can do gymnastics, stretch me a little bit, give me something a little harder to do.  So we elaborated on the fight choreography, and I told him that I could do back flips.  And he said to me, look dude, legally, I can't ask you to do a back flip, because you are not insured, and if you hurt yourself, then it falls on me and I will get sued.  But if you want to do a back flip, I will just pretend that I don't know anything about it.  So as soon as I got in the audition room, the scene was between Chris Evans and I, and it said Spiderman flips into frame, and delivers his first line.  And I remember saying to the Russo Brothers hey guys, do you want me to do a flip?  And they were like no man, don't worry about that dude.  Can you do a flip?  Yeah, I have been sending you videos of me doing a flip like every day for the last six months. I did the flip and Chris forgot his line, and it was such a cool moment, it was really cool. And then they said, so you can do back flips?  And I was like well yeah guys, have you not been getting my videos?  And I guess they hadn't. So then I did a whole series of back flips and I found out only yesterday that they still have the footage from my audition, so I am trying to get hold of it.  And I will not leak it Sony, but I will let you guys see it when I get it.
Acting in The Current War Movie?
TH: I was actually shooting "Avengers Infinity War" at the same time as shooting "A Current War." Shooting two war films at the same time that were very different, one is a space movie and one is a period piece.  But we would shoot two days in London and then two days in Atlanta. We were back and forth all the time, and it was confusing, because I was going from wearing Lycra to wearing fake sideburns.  But "The Current War" was really a great movie for me and I had a really good time.  Alfonso the director was such an amazing director to work with.  And working with Benedict Cumberbatch has been a dream of mine since I first saw him on screen.  The thing I can draw from the most with "A Current War" is my granddad has been a carpenter all his life, so I have spent a lot of time in workshops and my character Samuel Insull runs Edison's workshop and is his assistant. So I was able to draw from my history with my granddad in his workshops and bring it to life in the workshop with Thomas Edison.
Strange Request from Fans?
TH: I have had a lot of Spider kisses.  People keep asking me to take them to the prom, which is a crazy thing, because when I was at school I was really scared about asking someone to prom, and now people are asking me to prom.  I actually would like to take somebody to prom.  I think it would be really fun.  That is probably the strangest one I have had, and it's like come, it's not too far, I only live in Nebraska.  I'm like yeah okay, I will fly to Nebraska for the day.
Learning from The Impossible
TH: That movie kind of informed everything, because I had never been on a film set before.  Everything I have learned ever, has kind of originated from that experience.  Working with Naomi Watts was like a constant master class.  She is so good at what she does and she is effortless, she finds it easy, she shows up to set and she just does her job in such a fluid way.  And for me to learn from someone like that was the perfect opportunity to try and hone my skills and really decide that this is what I wanted to do.  There's nothing that I haven't really learned from Naomi and that movie, it was a master class every single day.
Unexpected Incidents on Set
TH: There's loads, almost every day.  I like to improvise a lot and I find that my best performance comes from when I improvise.  So that also means that I mess up all the time.  There's a lot of funny stunts that went wrong.  There was this one stunt where my stunt double, how do I explain this, this is quite difficult to explain, basically there's a shed, and Spiderman is supposed to land on the shed and jump off.  But in the movie he smashes through the shed, and then runs out of the doors.  But I wasn't allowed to smash through the shed because it was too dangerous, so what happened is, I hid in a little box, in the shed, while my stunt double smashed through the roof and then I would run out of the doors as if I had just smashed through.  And then had to smash through this fence, and it looked so good, but it went wrong and I fell over and I looked like an idiot.  But it looked so natural and funny that it made the edit, and audiences will definitely laugh when they see me falling over.  I have never fallen over as much as I have with this movie.
Your Father
TH: My mom and dad are fantastic, they are great.  They are definitely good at keeping me grounded.  My dad is such a great guy and we have such a fun time and such a great relationship and we love playing golf with each other and his book "Eclipsed" is an absolutely joyous read, and he's definitely not jealous, but very proud.
Costume 
TH: Spider Man does have a homemade costume–it's in the trailers.  He does have the Tony Stark one.  He is lucky enough to be given a new suit by Tony just before the "Civil War' fight.  And the funny thing about the suit is basically my version of Spiderman is the worst Spiderman possible.  He is actually not very good at being a superhero.  And the suit is there to kind of aid him and help him get better, but because it's so complicated, he doesn't know how to use it.  It's almost like giving my grandmother my I-Phone, she doesn't quite really know what to do with it.  There's a lot of funny scenes of him messing up because the suit is too clever and he is trying to override it and it doesn't work.  There's a lot of humor between Peter and the suit.
Playing Spiderman 
I had always been such a huge fan of Spiderman, I had been playing him in my bedroom since I was a kid.  I definitely started reading all the comics and I watched all the movies again and I started going to the gym and really training and trying to get into good shape, and just do as much research as I could possible.  On my phone, I have thousands of screenshots from the comics, funny lines, that whenever I am lost on set with something to say, I just go through the comics and try and find something that was written from the 1980s. So I really dove into the comics pretty heavily, and it was a huge help.
Discoveries from Doing Research
TH: It wasn't so much what did I discover about him because I already knew so much about the character and I was always in love with Spiderman.  It was more just the humor behind it, and it was something that was really apparent and something that I was going to have to drive home, and the screenshots from the comics was a huge help and it was like a cheat list.  I basically had the cheat sheet to play the role.