Tribute to Gene Wilder, the beloved genius comedic actor, who died yesterday at age 83.
Over the years, Willy Wonka and the Chocolate Factory, the 1971 movie has become a cult classic, achieving a cultural status akin to that "Snow White," "Bambi," and "The Wizard of Oz"–Oompa-Loompas have become a cultural point of reference.
Few films hold a strong appeal to all members of the family. But what makes this one such a beloved picture by both children and parents? We had a chance to discover with yourself now that Warner is commemorating its thirtieth anniversary with new special DVD edition.
Children's writer Roald Dahl ("James and the Giant Peach," "The Witches") had adapted the screenplay from his own book, "Charlie and the Chocolate Factory." The film was directed by Mel Stuart, known for minor efforts such as "If It's Tuesday, This Must Be Belgium," and "One Is a Lonely Number."
The structure of "Willy Wonka" is much similar to that of "Wizard of Oz." In both films, a young child (boy in the former, girl in the latter) goes on a magical journey filled adventure, fantasy, and songs and learns some valuable lessons along the way.
The movie stars Gene Wilder as the world's greatest chocolate maker, a mysterious figure who has long ago locked himself in his factory and hasn't been seen since. For reasons that only become clear at the end of the tale, he decides to hold a contest. Inside five Wonka Bars he has hidden Golden Tickets worth a trip inside his immense candy factory, plus a lifetime supply of chocolate. However, Wilder's candy-maker protagonist is much more cynical and sadistic than the usual characters encountered in kids movies.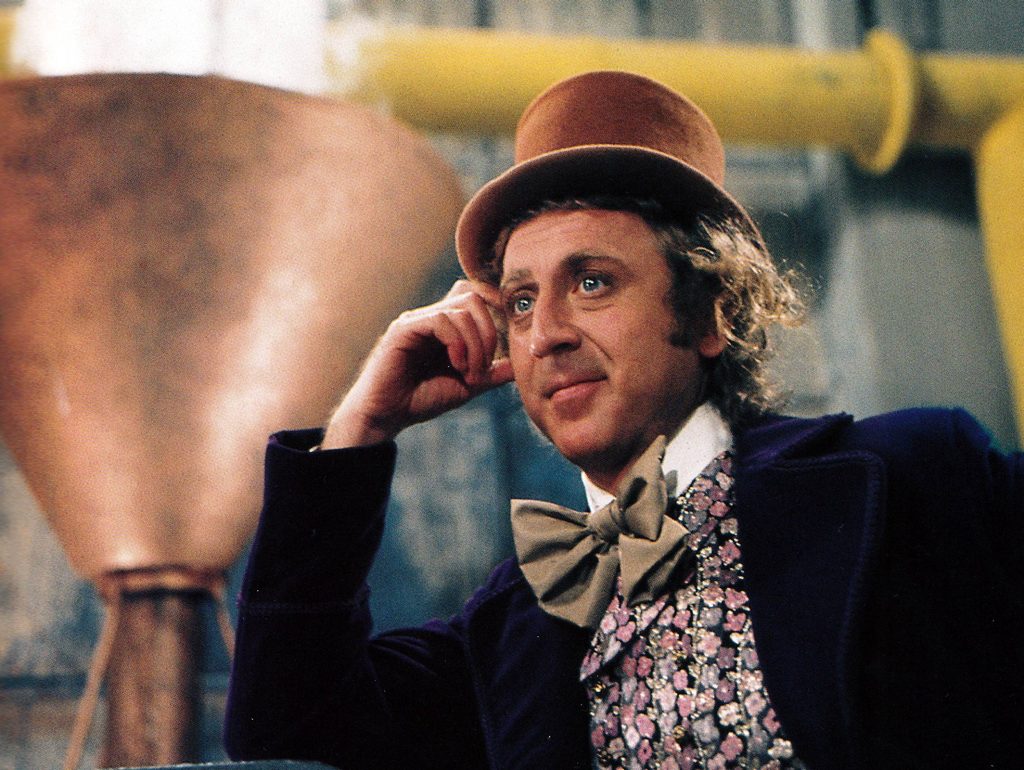 The whole world goes crazy trying to find the prize tickets. The first person to strike gold is young Augustus Gloop (Michael Bollner), a greedy, gluttonous, sloppy little German boy who is always eating. The second to find a ticket is Veruca Salt (Julie Dawn Cole), a rich, spoiled, selfish, nasty brat. The third is Violet Beauregarde (Denise Nickerson), a pushy, bad-mannered child who holds the world's record for chewing the same piece of gum. The fourth is Mike Teevee (Paris Themmen), a rude smart aleck, who watches television all day long. But it's the fifth who's our winner is our hero, Charlie Bucket (Peter Ostrum), an honest, helpful, loving, hardworking lad.
The film's first part depicts the events leading up to their entrance into the candy factory. Charlie is so poor he lives in a one-room shack with his mother and both pairs of grandparents. The four grandparents occupy a single bed that they haven't gotten out of in years. When Charlie wins his prize, he's allowed to take one person with him and he chooses his Grandpa Joe (Jack Albertson). Joe is not only a grandfather, he's Charlie's best friend and supporter: "Don't worry, Charlie, you'll find a Golden Ticket," he says, never giving up hope for his grandson.
Once the film enters the chocolate factory, the magic begins, and the combination of magnificent sets, catchy songs and whimsical situations is truly winning. Harper Goff's art direction is magnificent. The candy room, complete with bear trees, whipped cream mushrooms and a chocolate river, ranks among the most spectacular sets ever produced. The visuals maintain an exaggerated, even poetic feel reminiscent of a Dr. Seuss book. Leslie Bricusse and Anthony Newley's songs range from the merely pleasant to the wonderfully memorable. The story has a moral for parents that kids should never expect to get everything they want. There's a timeless resonance to this message that is as applicable now as it was 30 years ago.
In the new DVD, almost all of the principals, including Gene Wilder, the five "kids," the screenwriter (David Seltzer), the director (Mel Stuart) and the producer (David L. Wolper) drop by to share their thoughts about the making of this beloved film. Some of the stories are fascinating. Seltzer describes how and why they changed the ending. The kids, now a bunch of middle-age adults, provide the insightful voice-over on the commentary track in addition to participating in a feature called, "Pure Imagination about the movie's production."