The Eddy (Netflix), May 8
After a disappointing foray into space with the movie First Man, Oscar-winner Damien Chazelle is back on terra firma with a new Netflix series about jazz music, The Eddy.  It's a logical follow-up and sort of the third panel of a trilogy that began with Whiplash and continued with La La Land.
Netflix has just released a trailer that gives the viewers an idea of what to expect.  The Eddy plays this Friday, May 8, with all eight episodes released at once.
Andre Holland, formerly seen in Oscar-winning films like Moonlight and Selma, and TV roles in American Horror Story, Castle Rock, stars as a jazz musician named Elliot Udo. Once a celebrated jazz pianist in New York, Elliot is now the co-owner of a struggling club, The Eddy, where he manages the house band fronted by lead singer and on-again-off-again girlfriend Maja, played by Joanna Kulig ("Cold War").
The actor elaborates on his role: "Elliot is a man who has lived his life in that same way, trying to always do the right thing and play the right music, and please the right people, but the thing he hasn't taken the time to do is investigate himself in a real way, to deal with his own life and grief."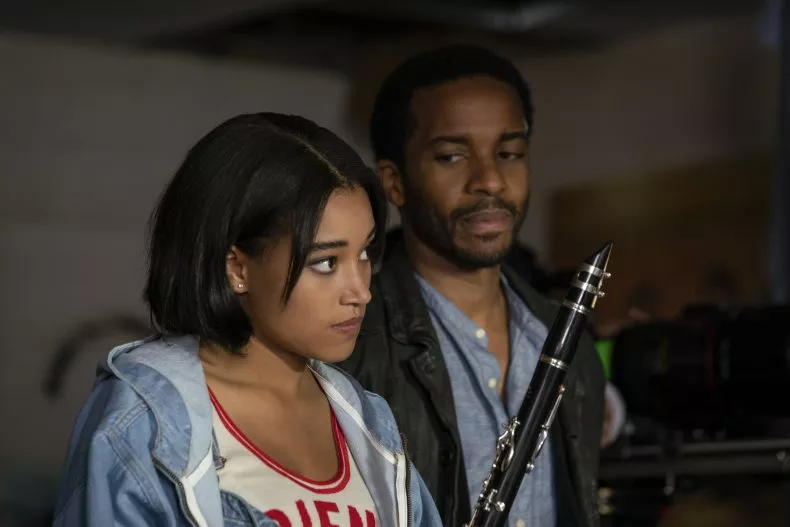 Amanda Stenberg ("The Hate U Give") plays the crucial role of Julie, Elliot's troubled daughter. When Julie unexpectedly arrives in Paris to live with Elliot, his personal and professional worlds start to unravel, forcing him to confront his past.
The Eddy proceeds to explore Elliot's various struggles to save the club and to protect those who are closest to him.  Thus, Elliot learns that his business partner Farid (Tahar Rahim of "A Prophet" fame) may be involved in some questionable practices at the club.  Gradually, other secrets begin to surface, shady facts that have also been concealed from Farid's wife Amira, played by Leïla Bekhti ("Paris Je T'Aime").
Photo: Tahar Rahim and Leïla Bekhti
Genesis of Series
Damien Chazelle: The Eddy wasn't really intended. Like a lot of things, it sort of came together by happenstance. I remember that the idea was first pitched to me by Alan Poul and Glen Ballard around 2014, when I just finished "Whiplash," and I was trying to get "La La Land," but hadn't made it yet. All they had at that point was a jazz club and Paris, because they knew I liked jazz and they knew I had part French background.  It took five years, and I almost thought this thing would never be ready. And it wound up being a real treat, especially being able to shoot in Paris. I always wanted to shoot something there. So being able to do that, and in this musical context, that was really what pulled me in.
Love for Music and Jazz Musicians
DC: I like filming musicians, especially jazz musicians. Jazz is one of those art forms that you are not really in it for the money or the fame, it's people who are working really hard because they love it and because it means something to them. So to me it makes for a better, more rich drama about people who are almost unreasonably committed to something that's not going to give them a huge windfall, and you have to wonder about the onsessive nature of their devotion.
Challenges of Style
DC: The hardest thing with Netflix was the shooting style. Actually they were okay with hand-held, but shooting on super 16 millimeter, you get this soft kind of grainy texture that I love a lot, because it reminds me of a lot of these early jazz documentaries. It's basically the old language of documentary filmmaking, before digital, they would just shoot on 16 because the cameras were smaller so you can maneuver more easily.  Also, some of the French New Wave movies were on 16mm because it was cheaper.
I love that aesthetic, but Netflix prefers things really clear and crisp and they like to have strict guidelines on what filmmakers can shoot. So I kind of had to fight a little bit, but they ultimately let me do what I wanted to do. Other than that, they were very supportive.
Everything else was kind of articulated from the beginning that we were all going to do it in a certain way and that it was going to be all real locations and the music was going to be live and it was going to be like this sort of like you say, kind of in the vein of some of the early, whether it's Godard or those sort of movies. And then also a little bit of the New York independent movies that I have loved from that era, like John Cassavettes and Shirley Clarke.
So it was going to be messy, it was going to be a little bit boisterous and kinetic, but the camera was going to be behind the action so you would be trying to catch up with them so it didn't feel too staged. We tried to articulate that from the get-go, and luckily we didn't have many problems, except for the cinematographer sweating a lot after every jazz performance. I made the DP run around like a maniac, and he would be drenched in sweat every take. But other than that, we were good.
Multi-Cultural Setting
DC: The setting came before the characters.  The idea was that the setting was going to stir an oasis for the characters, a sanctuary, like a refuge. Outside the club, everything in these character's lives, and each of them really was going to be in varying degrees of a clusterfuck–they were going to be having a hard time in different ways.
I wanted to show that musicians play jazz because maybe they need it–there had to be this sense of need. But they were returning to the club, not to just to have fun sometimes, but it was deeper than that, it's because it's a medicine, it's a healing thing for them.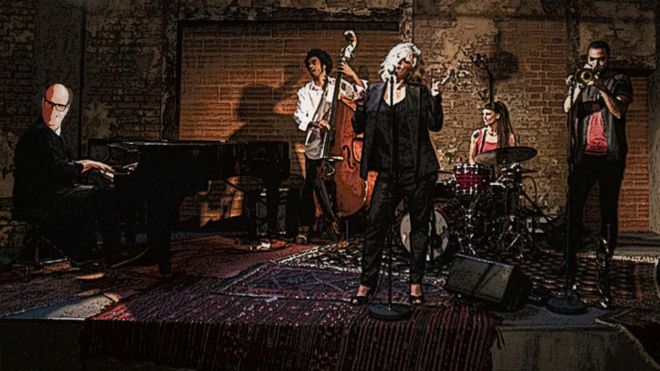 Inside/Outside
DC: The characters are going through traumatic losses, and others are just having trouble with more day-to-day things, like paying bills or family members.  The idea that everything would be kind of on shaky ground outside the club was at the outset of volatility in that sense.  The narrative had been structured by this kind of give and take, when are we outside the club, when are we in it, the issue outside the club that the club is trying to keep outside, keep from coming in, when do they come in and wind up tainting this little oasis.
Jazz Club as Modern Church and Oasis
DC: I wanted to explore why the characters are so intent in trying to keep this club alive, even when it seems like the universe is continually telling them, we don't need you, we don't want you, close your doors.  They need to keep it alive, because it's the one thing they have. It's like the church in the old days, it's like this is our one sanctuary where we can be at peace, where we can heal ourselves, because everything that is not music, everything that is not the club, is too hard.
Of all Chazelle's projects, The Eddy is the most collaborative, in the sense that it was co-created with other executives.  And Chazelle is only one of four artists who directed the eight-episode series. The other helmers, like the actors, represent different nationalities: Gallic Houda Benyamina ("Divines"), Moroccan Laïla Marrakchi, and American Alan Poul, who's also the show's executive producer.
Glen Ballard, a six-time Grammy Award winner, wrote the songs and established the titular club's band, which is composed of international real-life musicians Randy Kerber, Ludovic Louis, Lada Obradovic, Jowee Omicil and Damian Nueva Cortes.