TAXI DRIVER (1976) – THE MIRROR SCENE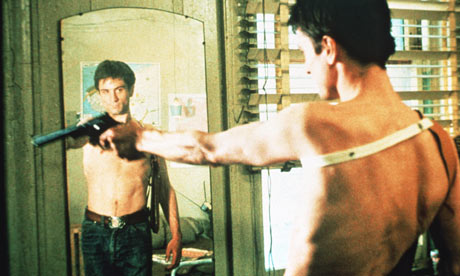 Chosen by Stephen Woolley, the award-winning producer best known for his collaborations with director Neil Jordan including Interview with the Vampire and The Crying Game. In 2005 he made his directorial debut with Stoned.
I remember seeing Taxi Driver for the first time in Paris in the 70s. The taxi gliding across New York's wet streets, smoke coming out of the subways, it was all incredibly delicious. It had this thundery Bernard Herrmann score. And when De Niro did his "are you talking to me?" sequence in front of the mirror, you suddenly sensed the degree of anger there. It was all bottled up until he explodes with this bravura performance. It's very clever, very economical, everything concentrated on his eyes.
Sequences like this are not only successful because they are so beautifully created but also because they often come at a point in a film where you begin to realize where it's going, you think, "oh my god, I know what this is about". Here you become aware that not only is Travis Bickle schizophrenic but he's aware of his own schizophrenia. He's like a genie in a bottle and you're waiting for him to let the genie out – which he does brilliantly in that horrific sequence later on where he shoots Harvey Keitel's character and saves Jodie Foster's.
The scene was improvised but De Niro had tried out a version of it in an earlier film he made with Brian De Palma, I think it's called Hi Mom! I didn't see it until years after watching Taxi Driver and I remember thinking "I can't believe it – the thing he does in Taxi Driver!"