Influenced by both Thelma & Louise and Waiting to Exhale, F. Gary Gray's Set It Off is a well-crafted Girls N' the Hood actioner–with an acute social conscience and plenty of soul.
A tale of female bonding and empowerment, this relevant film boasts a terrific cast, headed by Queen Latifah in a career-making performance.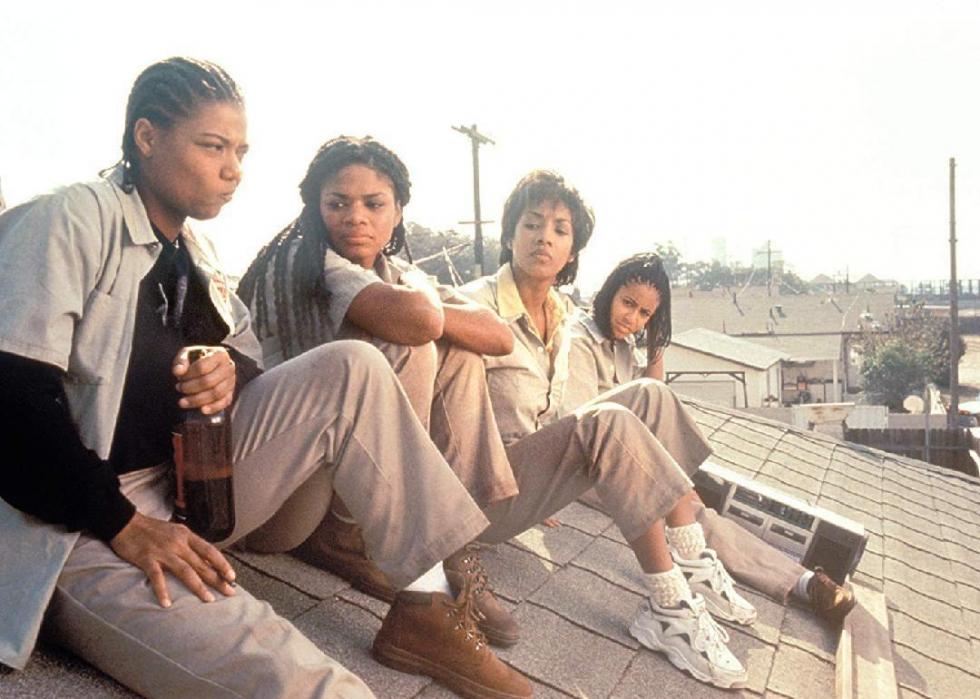 Assisted by Christopher Young's buoyant hip-hop score, which is already on the charts, the picture should capture the black market that embraced last year's The Thin Line Between Love and Hate, and perhaps even cross-over to white female audiences, resulting in one of New Line's most commercial films in some time.
Of the half a dozen female bonding films released this year, including the ultra-raw Girls Town, the dismal MTV-like Foxfire, the special effects ridden The Craft, and the shamelessly maudlin Spitfire Grill, Set It Off is the most accomplished technically and, not to be underestimated, the most satisfying emotionally.
Set in L.A., this hodgepodge of a film, skillfully scripted by Kate Lanier and Takashi Bufford, combines elements of the action and inner-city genres, which have been mostly male-dominated, with some serviceable ideas from female friendship mellers. End result is a potpourri that juggles so many balls that it may appeal to various audiences for different reasons.
Attention-grabbing pre-credits sequence centers on upwardly mobile Frankie (Vivica A. Fox), a dependable bank employee with ambitions to move up the corporate ladder. In a heist that goes awry, she gets ruthlessly fired for recognizing the black robber from her hood. Suspected of collusion with him, and having lost the only thing that mattered to her, Frankie's primed for revenge.
Tale is extremely careful in setting up the contexts in which a close-knit quartet of women live, providing for each of them a strong motivation to engage in crime. Particularly moving is the story of Stony (Pinkett), a woman who invests all of her dreams in her kid brother, Stevie (Chaz Lamar Shepard), and is totally shaken when he's shot and killed by the police.
The foursome, who went to school together and have lived in the hood for a long time, also include Cleo (Latifah), a hot-tempered butch lesbian, and Tisean (Kimberly Elise), a soft-spoken single mom, whose baby is taken from her for "neglect," when she takes him to her janitorial job and he accidentally injures himself.
Out of desperation, realizing the hopeless trap they're in, the femmes decide to rob a bank. When the action, not to speak of the money, proves to be exhilarating and liberating, they go on to two more robberies–despite hesitations and warnings from Stony–culminating in the tragic death of three and only tentative survival of one.
Unlike Thelma & Louise, which uprooted the women from their locale and was basically a road movie, Set It Off keeps the women in their element, observing their attempts to live a "normal" life, which in their case means exploitative, low-paying jobs, insensitive men, etc. Pic captures effectively the psychological importance of the hood for the women. There's an illuminating scene, in which Cleo tells Stony, whose sole motivation for robbing is to get out of the projects, "Where will I go, I belong in this hood." It's also a tribute to the filmmakers that Cleo's overt lesbian relationship is handled matter-of-factly, without any hustle or victimization from her surroundings.
With a nod to Waiting to Exhale, yarn introduces Keith (Blair Underwood), a rich, well-educated (Harvard MBA) corporate banker, who becomes enamored of Stony, providing her the only legitimate venue for a better future. Their dates, with his instruction of how to be a "classy lady," serve as diverting romantic interludes, but they also break the momentum of the actioner, especially in the mid-section.
Ultimately, the script suffers from being overly calculated and too schematic. With all the effort to create four strong individual characterizations, the women often come across as types: the butch dyke, the susceptible single mom, etc. It's also hard not to notice the balance in the gallery of black personalities–for every "negative" black figure, there's a counter positive one, be they bankers, cops, or employers.
Gray, who made his feature debut last year with the sleeper hit comedy, Friday, shows vast improvement as a director. With a keen eye for detail and flashy style (based on his previous music video work), he gives the film an undeniable urgency. The action sequences, particularly the final one, are excitingly staged, the mise-en-scene is subtle and engaging, and the ease with which he handles his mostly female cast is impressive.
After making a strong mark this summer in the comedy The Nutty Professor, Pinkett is clearly bound for major stardom, cashing in on her natural likability and raw intensity. Singer-actress Latifah also shines in her nuanced mixing of a tough, street-smart exterior with a fun-loving, loyal heart. Always congenial, Fox is good in showing the fine line between legit and criminal behavior. In a role that strikes resemblance to Harvey Keitel's benevolent sheriff in Thelma & Louise, McGinley renders vividly the dilemmas of a modern-day cop. The only weak performance in the otherwise superb cast is Elise's, perhaps because it's her film debut.